Business & Economics
From September 2021 the department will be switching from the Cambridge Pre-U to the Eduqas Business Studies A-level.
Recent Achievements
Business & Management - top candidate in the country 2018 & 2019
Moneywise Finance teacher of the year 'Judges Award' 2019 (RW)
National finalists in the ICAEW BASE competition on two occasions
Regional & National finalists in the LiBF Student Investor competition
Regional Finalists in the Target 2.0 BoE competition
Winners of the EY Arcade National Competition 2014
Business Studies - Winner of the 2013 Good Schools Guide Award for Excellence
EBEA nomination for Business/Economics teacher of the year 2012 (RW)
EBEA department Quality Mark accredited
Department Facilities
The Business & Economics Department sits in a new area in Old School House. There are three classrooms, a social learning area with 4 networked computers and a large TV screen. The department also has a staff office. We are developing an Enterprise Hub area.
Department results and pupil numbers
Results in the department are excellent. The exam results in Business are generally well above the LRGS average and the value added is amongst the very best in the school. The results have been recognised with the department achieving the top Pre-U Business candidate on a number of occasions. Economics results are also very good. Typically averaging over 80% A*-B in recent years. The department continues to flourish and this is reflected in pupil uptake. Over half of the entire Sixth Form now take Business or Economics and it is the biggest humanity/social science department in the sixth form.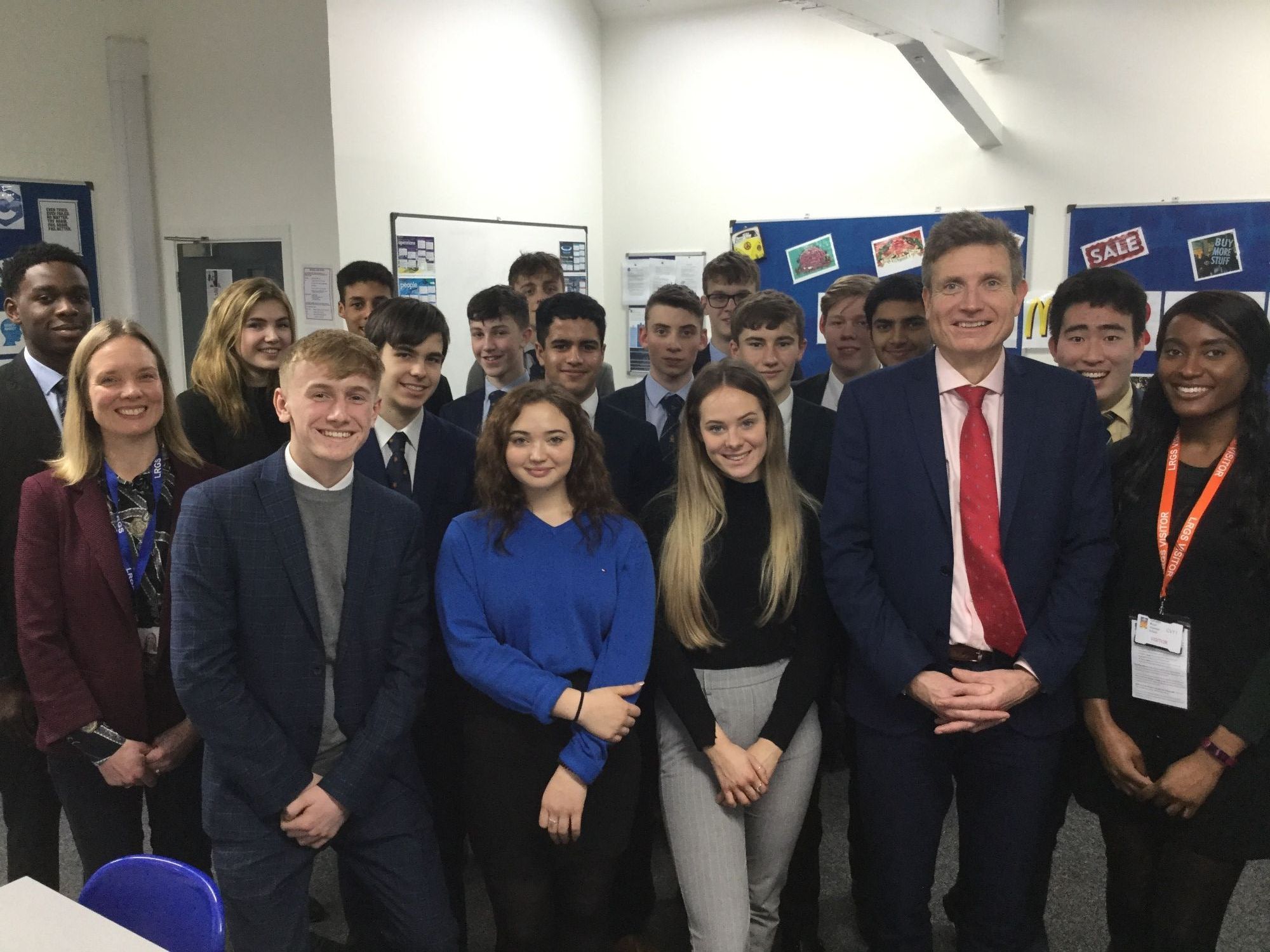 Business & Economics - Staff Overview
Russell Wareing B Ec (Hons) Murdoch University, W Australia; Grad Dip Ed Curtin University, W Australia. Mr Wareing is the Head of the Economics and Business Department, Assistant Housemaster in Ashton Boarding House and helps coach the senior football squad. He tends to teach both Business & Management and Economics. Until recently he was the Chief Examiner for the Cambridge Pre-U in Business & Management. He is currently an exam reviser for an overseas Business Studies paper. He has had a variety of articles published in both the Business Review and the EBEA magazine. He also led a two year Erasmus+ project with some European partner schools. The focus was on personal finance education.
Jonathan Remmington BA (Hons) Business Studies, PGCE University of Manchester. Mr Remmington is a teacher of L6 Business & Management, Values to students in Years 8 and 9, and a Residential House Tutor for Storey House. He is also an examiner for A-level Global Perspectives, Business and IGCSE Economics. He is also be an integral part of the department entrepreneurial focus and is already running two Young Enterprise teams. A keen squash player, Mr Remmington will be leading the school's first squash club as well as table tennis.
Email Business & Economics staff
Business & Economics - Sixth Form
Eduqas Business Studies A-level
The department is switching from the Cambridge Pre U in Business & Management to Eduqas A-level Business Studies for new candidates starting in September 2021. This is a linear course with 3 examinations.
The course details can be found here.
Edexcel Economics
The department follows the Edexcel syllabus. In total four units are studied and these are examined at the end of the second year through three exams. The course is linear.
For more details on the curriculum, visit the Edexcel web site
Business & Economics Extracurricular
Students within the department are encouraged to get involved in the various enterprise schemes and competitions. This is a core feature. The department is in the initial phase of setting up a dedicated 'Enterprise Hub'. Initially this will involve pupils trying to set up a business in a structured way using the Young Enterprise Scheme. In the second year we hope to help pupils with potential 'start-up' business ideas.
Examples of current activities
LiBF Student Investor
Entry: Year 10 to U6
Detail: Investing in a virtual shares portfolio
ICAEW BASE
Entry: L6 & U6 Business & Management
Detail: National Business, Accounting and Skills Education Competition
Lancaster University (LUMS) 100 –Day Enterprise Challenge
Entry: L6 & U6
Details: Develop and pitch a business plan in 100 days
Young Enterprise
Entry: L6
Details: National business start-up competition
Erasmus+ Entrecomp Certificate
Entry: L6 & U6
Details: European Entrepreneurial skills award
The department also enters a variety of Economics essay competitions, has a number of guest speakers and organises business visits and overseas trips such as New York, Prague and Cyprus.