Geography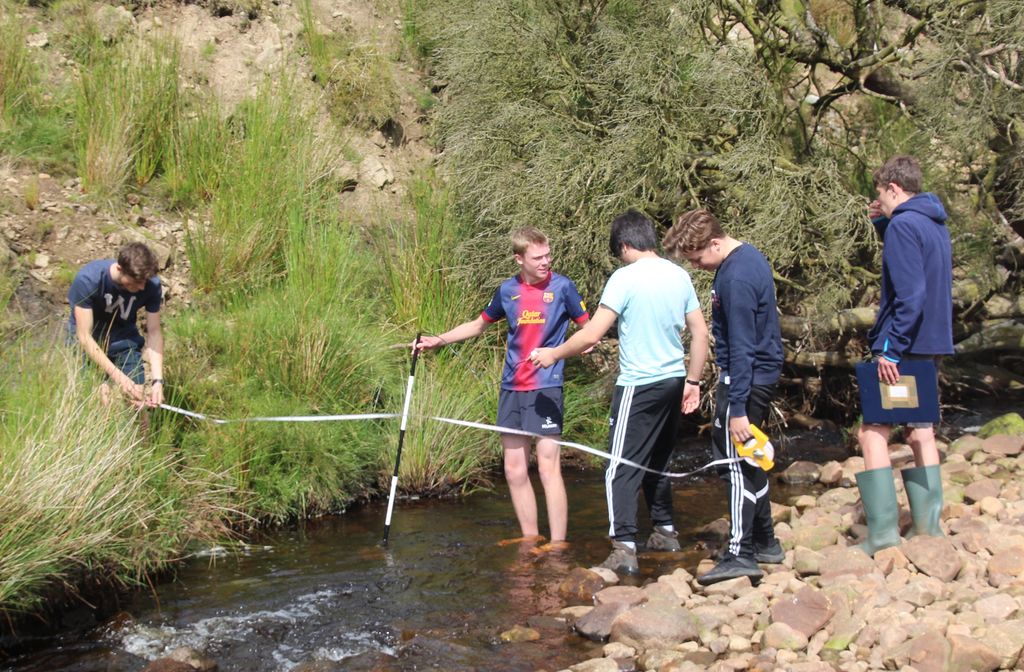 "What is our knowledge worth if we know nothing about the world that sustains us, nothing about natural systems and climate, nothing about other countries and cultures?" (Jonathan Porritt, Forum for the Future).
"What other subject tells us so much about the great issues of the age – global change, natural and human?"

(Prof Andrew Goudie, University of Oxford).
"Geography makes us aware that we must think globally."
(Bill Giles OBE, Head, BBC Weather).
The importance of Geography in the world today
Geography provokes and answers questions about the natural and human worlds, using different scales of enquiry to view them from different perspectives. It develops knowledge of places and environments throughout the world, an understanding of maps, and a range of investigative and problem-solving skills both inside and outside the classroom. As such, it prepares pupils for adult life and employment. Geography is a focus within the curriculum for understanding and resolving issues about the environment and sustainable development. It is also an important link between natural and social sciences. As pupils study geography they encounter different societies and cultures. This helps them realise how nations rely on each other. It can inspire them to think about their own place in the world, their values, and their rights and responsibilities to other people and the environment.
The Geography Department at LRGS
There is a great tradition of studying geography at Lancaster Royal Grammar School. It is one of the most popular option subjects at GCSE with over 100 students in Year 10 and 11, and over 40 students in each year of A-level. Over recent years examination results have been excellent: in 2012 the percentage of A*/A at GCSE was 73.9% while at A-level the percentage of A/B grades was 79.4%. Many students go on to study geography or geography related subjects at university.
With seven specialist geography teachers and five designated teaching classrooms, the department is well placed for teaching the subject to the highest standards. We also benefit from being in probably the best location within the UK to study geography. Within a short distance, we have access to the coast of Morecambe Bay, the limestone (karst) of the Yorkshire Dales, the glaciated scenery of the Lake District National Park, the heather moorlands of the Forest of Bowland, and the vibrant city of Manchester not to mention the immediate surroundings of Lancaster and its environment.
The Geography Department is a forward-thinking department, trying to provide a relevant geographical education for the 21st century. New initiatives in recent years have included a biannual A-level fieldtrip to Iceland, the setting up of an LRGS automatic weather station website and a very productive partnership with Global Link, a Development Education Centre in Lancaster.
Our overall aim is to stimulate student curiosity, interest and enjoyment of Geography. We hope we can achieve this.
Staff Profiles
With five specialist geography teachers, there are few schools that can offer such a wealth of experience in geography and geography teaching.
Andrew Talks is the Head of Department. He thinks the world of geography and enjoys the opportunity to share his passion inside and outside the classroom. Having lived in Kenya and India, and travelled to many remote and interesting places he brings knowledge of 'real geography' to his lessons. He graduated from Durham University with a BSc (Hons) and completed a PGCE at Cambridge University. He enjoys photography, open boating (canoeing), anything outdoors, allotment gardening and travel both near and far.
Ian Ledward graduated from Aberystwyth University with a Bsc (Hons) in Physical Geography; he also developed an interest in mountaineering during his four year stay in Wales. He is master in charge of cricket at the school and also coaches rugby. He believes that Geography is a dynamic subject, enabling us to appreciate the evolution of our environment. His passion for the subject was inspired by living in Zimbabwe for most of his childhood. His ancestry can be traced back to ancient Greece.
Kathryn Page BA (Hons) Geography; University of Portsmouth, PGCE; Southampton University, Advanced Certificate in Education; St Martin's College. Kathryn is experienced in both primary and secondary school teaching. In addition to being a teacher of Geography, she is Co-ordinator of the InspirUS programme and Head of First Year and Transition at LRGS. She has written GCSE revision guides for the BBC and has previously worked in bookshop management.
Chris Pyle completed his Geography degree and PhD in Cambridge. A physical geographer at heart, he has published a number of teaching resources including Geofiles on climate change, natural hazards and river bank erosion. Glaciers are his favourite geographical theme. However, he also particularly enjoys the lesson on globalisation where the class turn out their bags, look through their labels, and discover the country of origin of every object they own.
Email Geography Department staff
Geography 11+
Key Stage 3
The aim of the LRGS Geography Department at KS3 is to enthuse students about geography and to make them aware of the relevance of the subject in today's changing world. We promote the study of awesome geography by asking students to think, ask questions and explore very relevant geographical topics in our fast changing world. Since 2015 the department has been following an enquiry based approach to learning.
In Year 7, students consider amazing places like; Iceland and Madagascar, Japan, Land Grabbing in Africa, Fracking and Sinkholes. A fieldtrip is organized to the Yorkshire Dales.
In Year 8, students examine Geography in the News, plate tectonics in New Zealand, Australia's population distribution, the Migration crisis, river flooding and Russian exploitation of the Arctic. The students go on a fieldtrip to the River Wyre.
In Year 9, students explore issues in the oceans, water scarcity in Peru, understanding global development and India the next global superpower? A fieldtrip explores the coastline of Heysham and the problem of coastal pollution.
The current textbooks used are Collins Geographical Enquiry book 1, 2 and 3.
11+ Extra-curricular Projects
The LRGS Geography Department has a large geological collection which is being displayed in the New Building in cabinets provided by the Friends of LRGS.
GCSE Geography (AQA GCSE 8035)
GCSE Geography helps you to make sense of the world around you. It is up-to-date, hands on, it is relevant and it is fun. The course involves a good mix of topics from the study of natural hazards like volcanoes and tsunamis, to globalisation and the rise of China. The course will give you the chance to get to grips with some of the big questions which affect our world and understand the social, economic and physical forces and processes which shape and change our world. If you are interested in current affairs locally or globally this is the course for you.
There are so many ways of learning in geography. It is very practical with opportunities to learn new skills such as: modern computer based mapping (called GIS), fieldwork skills, interpreting photographs, map skills, presenting and debating techniques and role play.
Fieldwork is a really important part of geography. We go to Morecambe, Ainsdale, Lancaster and the Lake District. This provides you with a brilliant opportunity to experience some of the things you have learnt about in class, see things differently and of course have fun. At A Level, students go further afield to Iceland and possibly India.
You will improve your literacy through your report writing and written work and make practical use of your numeracy skills when you interpret data and construct graphs. It is a subject that encourages you to question and find out why things happen, to make links, problem solve and form opinions. Such skills make geographers excellent decision makers who are much valued in the work place. International development, environment, marketing, transport, tourism, travel, flood protection, weather, geology, national parks, oceanography, town planning are all career areas that geographers go into alongside law, engineering, and business.
What will I learn?
With the emphasis on up to date, located examples, the topics that are covered at GCSE are:
Natural Hazards: Tectonic and Hazards, Weather Hazards, Climate Change
Ecosystems, Tropical Rainforests, Cold Environments
UK Physical Landscapes: Coastal Landscapes and Glacial Landscapes
Urban Issues Globally and within the UK
The changing Economic World
Global variations in economic development and quality of life.
Closing the Global Development Gap
Newly Emerging Economies
UK economic changes
Resource management
Energy issues
Geographical skills
Students are required to develop and demonstrate a range of geographical skills, including cartographic, graphical, numerical and statistical skills, throughout their study of the specification. Skills will be assessed in all three written exams. Ordnance Survey (OS) maps or other map extracts may be used in any of the three exams.
You will be expected to:
Keep up to date with geography in the news, empathise with other people's views and consider your opinion, use and understand geographical vocabulary learn about places all over the world.
Geography helps you to understand the world around you and develop critical opinions on topics that affect you.
Geography - Sixth Form
"It used to be a Cinderella subject. Now, in a world that increasingly values people who can work across the physical and social sciences, geography's all the rage"

The Guardian
What is the A-level specification?
The LRGS Geography Department will be following the OCR Geography A-level. Please read the A-level specification sheet below.
"What other subject tells us so much about the great issues of the age – global change, natural and human?"

Prof Andrew Goudie, University of Oxford
"Geography makes us aware that we must think globally."

Bill Giles OBE, Head, BBC Weather
The A-level course does not involve any coursework.
What are lessons like?
Geography is taught in four dedicated geography classrooms. Each classroom has computer projector facilities, DVD/video player and whiteboard. Within the classroom a variety of teaching styles are used including Power Point, group discussion, whole class lectures, student presentations, and Q & A sessions.
Fieldwork is seen as a vital element of the course, helping students to apply classwork ideas to the real world. In October 2016 we went to Iceland to investigate ice and fire! The Geography Department's Virtual Learning Environment (VLE) is kept up to date and is very relevant to the course containing resources and links. Alongside core textbooks issued to all students, the school resource centre has a great variety of relevant texts and journals like Geography Review.
"The Iceland fieldtrip was the best trip I have been on from the school!"
What skills does Geography develop?
Students of Geography need to be motivated and well-organised. The ability to express ideas clearly on paper and verbally is important. During the course students are given the opportunity to develop good study skills which are essential when following up topics and researching for essays. Strategies for analysing data are looked at alongside developing the students' understanding of key concepts. Basic computer literacy and confidence with a variety of programmes including Power Point and the internet is encouraged. Numeracy skills are useful and some presentation and statistical techniques are developed.
Fieldwork in particular encourages students to work alongside others. The keen geographer will subscribe to Geography Review and keep up to date with current geography using sites like the Royal Geographical Society's 'Geography in the News' pages.
What can Geography lead to?
As an academic discipline Geography A-level is highly respected by universities. It has been identified as a very worthwhile A Level by leading UK universities. It can help students apply for a great variety of subjects at university, from town planning to business management.
Several students each year study Geography at university. Geography is a subject that opens up many career paths from environmental work to international development.
Overall, A-Level Geography at LRGS offer students a wealth of opportunities to further their knowledge and understanding in a changing world. Through a combination of stimulating teaching, fieldwork, and encouragement to enjoy the subject, it is hoped that students will find Geography at LRGS rewarding.