Food Technology
The Food Technology Room FT 1 is perfectly situated in City View underneath the Headmaster's Office! It is a bright, fresh, modern and well-equipped food room, specifically designed to cater for 20 students.
All the boys in lower school will study Food Technology following the National Curriculum. Pupils will be taught in groups of up to 20 and through a carousel system, they will undertake a number of practical tasks and a final assessment. At the end of Key Stage 3 pupils will be able to opt to take Food Technology GCSE AQA at Key Stage 4.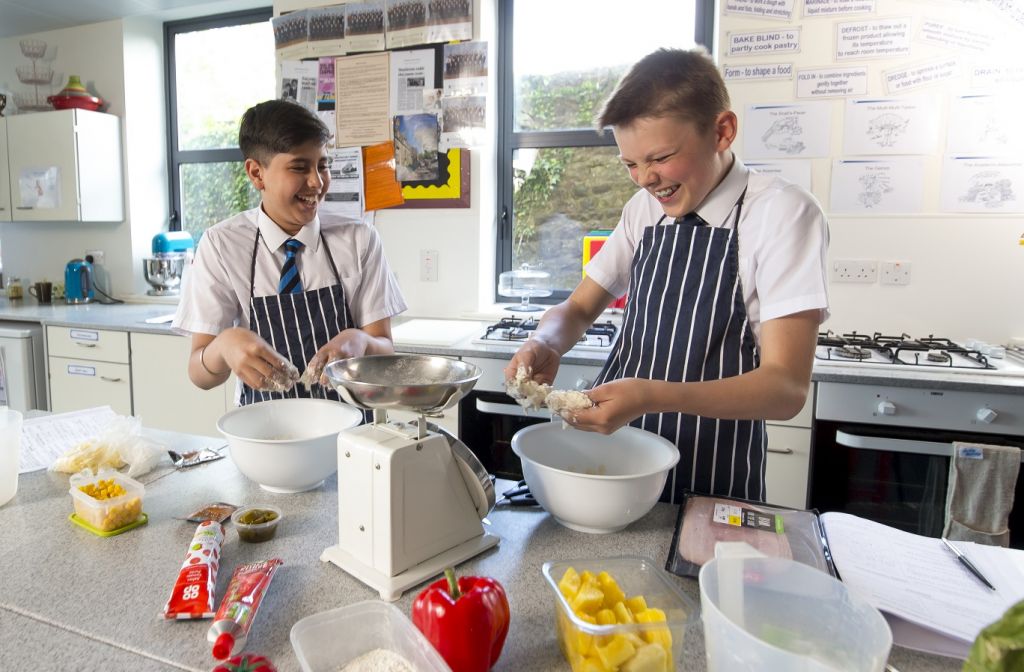 Staff Profile
Mrs A Sharples Subject Lead Food Technology
Mrs Sharples is a very experienced teacher and has taught many subjects, mainly Art and Food. She graduated with a BA Hons in Fine Art and Ceramics then qualified with a PGCE with Masters. Prior to joining LRGS, Mrs Sharples taught at Carnforth High School and Central Lancaster High School. She has been a dancer and had a childminding business when travelling with her husband who is in the RAF. She has also worked at Lancashire Educational Medical Service (LEMS- vulnerable/school refusers) and became a Vaccinator of Covid and Flu and a trained Phlebotomist.
Mrs C Mossop Teacher (Year 11) Food Technology
BA Liverpool John Moores, PGCE in Design Technology (Food and Textiles)
After graduating, Mrs Mossop worked in industry for 10 years before qualifying as a teacher. She has worked in various Lancashire schools. She has been a Chalet Hostess and Ski Guide in Meribel, France and is a qualified swimming teacher and keen runner.
Mrs Debbie Molyneux is working with Mrs Mossop as Food Technology Technician.
Year 7
In the Year 7 programme pupils will be taught basic food hygiene, food safety and human nutrition but the main emphasis will be on basic food preparation skills and healthy family meals. The assessment focus will be to design and make a healthy family mid-week meal. You can look forward to tasting and evaluating dishes such as Chicken and Vegetable Stir Fry, Fresh Fruit Salad, and Loaded Potato Skins …!
Year 8
Year 8 pupils will build on the Year 7 module and will study food and its function. They will be broadening their knowledge of food and where it comes from and investigating what influences the food we eat. The main emphasis will be on the production of savoury main course multicultural dishes and the boys will be developing a dish from a culture or country of their own choice. You will be testing some delicious dishes such as Thai Green Curry, Lamb Koftas and Cous Cous Salad…!
Year 9
In Year 9, the boys will be putting all their newly acquired skills together and taking part in a mini Junior Master Chef competition where pupils design and make a main course or dessert suitable for a British hero using seasonal, local or regional ingredients. The module aims to develop more advanced food preparation skills, independence, creativity in food and the ability to express themselves orally. The winner from each set/heat will go through to the Grand Final, where each heat winner will have to cook their dish in front of invited judges! I will be looking for serious judges and prizes for winners. In the mean time you can look forward to some delicious practice dishes for example Sticky Toffee Pudding, Homemade Meatballs, Salmon Tagliatelle and Bread and Butter Pudding ...!
Year 9 pupils will then be given the exciting option to select Food Technology at GCSE. The aim will be to achieve the best food technology GCSE results for boys in the country.
We follow the AQA specification for GCSE.
Sixth Form
Finally for those that have missed out on the food experience, we make some provision. Lower 6th form students have the option to pick 'Cooking For' as part of their General Studies Option. There will be Cooking for A Budget, Cooking for Love, Cooking for Health and Fitness, and Baking For Fun. If Upper 6th formers have dropped an A-level they can opt for 'Cooking To': Cooking to a Budget, Cooking to Impress, Cooking to Keep fit and Baking to Eat.
Bad Boyz Bakin' Club
The Bad Boyz Bakin' Club has proved extremely popular and is well over-subscribed. If Boyz want to come along and cook in a less formal, relaxed atmosphere, this is for them. It runs for 6 weeks on Mondays starting in October from 3.30pm until finished and cleaned up! There is a small charge of £12 for basic ingredients. Boyz can bring their own fancies/decorations etc but they will need a container.
How parents can help
In support of this exciting subject at LRGS, I would kindly ask that you provide the boys with ingredients each week. (Max course lasts 14 weeks). Boarders will be catered for and will be introduced to the delights of shopping by their relevant House Staff.
Each week the pupils will receive a production schedule/recipe and method and they will have a week in which to purchase the ingredients. The sheet will be in their file in a plastic wallet. If you can encourage your boys to hand this to you as soon as possible to avoid very late, last minute shopping! I am encouraging them and focussing them on the importance of good communication and organisation skills.
The Food Technology Department will stock a number of basic dry store cupboard ingredients for which there may occasionally be a small charge. For example in Year 7, homemade pizza base ingredients - yeast, strong plain flour and salt - would be provided for them at a cost of 50p.
It does help if boys experience shopping and preparing their own ingredients under the supervision of an adult at first and they will be expected to do this as part of their Homework/Prep.
It is helpful if all ingredients are weighed out before the lesson. If there are any issues with this, then individual boys must come and see the teacher or technician at the beginning of the day or well before their lesson. Any of the recipes can be adapted to suit individual/family preferences or requirements.
The Food Technology Department will be providing clean aprons, tea towels cloths and all equipment, but pupils and boarders will be expected to provide a container to take their product home. I recommend a large Tupperware box with a tight fitting lid; this will generally be suitable for most things but I will always recommend and show them what is required in each practical.
Pupils can bring their ingredients to school in a plastic bag. Recycled bags are great; strong and long lasting but I strongly recommend that all bags and boxes are clearly labelled with their name and set. I am always looking for recycled plastic bags, spray bottles and empty washing up liquid bottles if anybody can help out.
This is a very exciting venture for the boys at LRGS and we are all looking forward to getting started. So let's get cooking!
Please do not hesitate to contact me if you or the boys have any problems.
Mrs Mossop
Head of Food Technology
Tel 01524 580600
Fax 01524 847947
Email