UAE Senior Cricket Tour 2023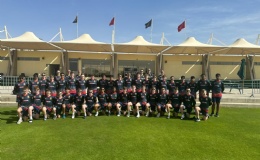 During February half-term, 38 pupils and 6 Staff embarked on a 10-day tour of the UAE.
LRGS toured with three teams; 1st XI, 2nd XI and U16 XI and in total played 17 matches amassing 2,218 runs and taking 117 wickets.
The boys were exposed to a variety of formats of the game; 40 over cricket, T20's and the Hundred and were fortunate enough to play on lots of different types of wickets in both daytime and day/night cricket under floodlights.
There were four fifties scored and one century (J.Wills), with twelve different pupils gaining invaluable experience as a Captain and a leader. Off the field the boys were able to go on a desert safari, cycle around the Yas Marina F1 track, explore the Grand Mosque and develop a greater understanding of the many cultural differences.
A large number of parents, brothers and sisters travelled to support the tour and their camaraderie helped make the tour a fantastic experience for both staff and pupils alike and one that the boys will never forget.