RGS Cricket Festival Winners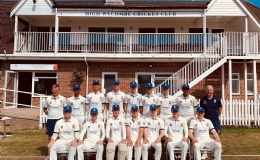 Congratulations to the 1st XI for winning the prestigious Royal Grammar School Cricket Festival in High Wycombe last week.
Top run scorers: J.Pearson 688, avg 49.1 B.Rosbottom 685, avg 62.3 W.Beeden 508, avg 42.3 J.McWilliam 342, avg 19 A.Tripathi 290, avg 32.2
Top wicket takers: C.Bradford 21 (6-21) J.Wills 20 (6-11) C.Parkinson 19 (4-12) A.Tripathi 16 (4-40)
Many thanks to RGS High Wycombe for hosting this year's RGS Cricket Festival and a huge thanks to all our staff, parents and supporters for being part of a very special week!
View the photo gallery here or for all the details head over to LRGSCricket on Twitter.