Talented Cricket Player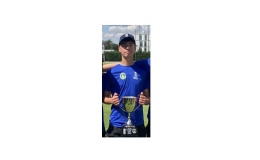 The summer holidays saw some very exciting news from one of our current students, Charlie, who was representing the North of England at The Bunbury Cricket Festival in Loughborough.
The Bunbury Festival showcases the skills of 56 of the most talented England under-15 players in the country as they go head-to-head in a round-robin tournament. The festival was started in 1987 by Dr David English, and is the first stage of the ECB pathway for young players who are wanting to represent England on the international stage.
Charlie represented the North region, bowling 22.3 overs during the tournament, picking up 6 wickets, with an economy rate of 3.69. These figures are a great achievement and show how hard he has worked to develop his craft as an opening bowler. His team went on to win the tournament with 6 points. 3 wins and 2 losses. Charlie now has the opportunity to be trained by some of the best cricket coaches in the world, to develop his game further! What a phenomenal achievement, huge congratulations to Charlie and his team. Keep up the fantastic work.