Speech Day 2021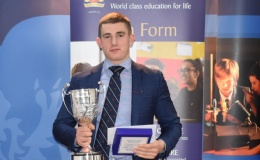 How wonderful to end the year by getting together to celebrate pupil achievements with a very special prize-giving ceremony yesterday.
Speech Day is an annual tradition for LRGS, dating back hundreds of years. In recent times, we usually meet at Lancaster Town Hall with a distinguished guest speaker, VIPs, Governors, staff, pupils and their parents. This year it was a little different. Despite not being able to host such a large scale event due to safety concerns and restrictions, each Year group came together in the Assembly Hall to congratulate and celebrate their peers. For our Year 8 pupils, it was the first time such an event has taken place, so it was even more of a special occasion.
Following a speech from Headmaster Dr Pyle, the prizes were awarded. After the applause had quietened down, there were inspiring speeches from the Head of School Tom, Poppy, Travis and Clement which are available to read below.
We would also like to thank Howard Roberts, Chair of Governors for awarding the prizes.
Congratulations to all pupils on receiving their prizes, the message to all the others was to keep going, keep trying your best and we hope to see you on stage next year!