Sixth Form Applications 2022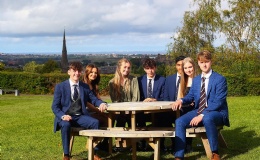 Applications to join Lancaster Royal Grammar School Sixth Form in September 2022 are now being accepted.
Headmaster Dr Pyle said: "Our Sixth Form is all about challenge, choice and care – whether you are considering LRGS for the first time, with us already in Year 11, or looking at the special opportunities of boarding."
In order to attract applications from the most ambitious candidates, we are delighted to offer the opportunity for talented pupils to apply for a boarding scholarship. Up to three awards will be made to scholars for academic or extra-curricular excellence.
Lancaster Royal Grammar School is consistently placed among the top state schools in the country. In 2021, A-level students achieved top A and A* grades in more than 62% of all the exams that they sat.
Please visit our Admissions page to find out more and if you would like to apply, complete the online application form. If you missed the Open Evening, please watch our Virtual Open Evening films here.