School Trips are Back!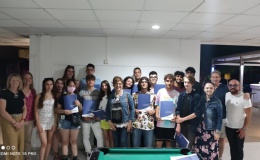 The EntreComp Certificate Training Event in Cyprus, 30 May-3 June 2022
What is the purpose of school visits abroad?
Experience other cultures
Learn from new people
Have fun!
If that is the case, we did all of that and more on our training event in Cyprus.
The trip was the culmination of our three year EntreComp Certificate Project in conjunction with Lancaster company MI-Gen, Romania's Euro Ed, Cypriot partner Emphasys, Enrico Fermi school from Sicily and Corbon school from Paris.
LRGS students have participated in an array of activities over the three years to help develop and pilot the award: fundraising with the Prince's Trust, creating marketing videos, establishing start-ups, winning Young Enterprise competitions, and reflecting on all their co-curricular experiences to show that they have proved competency in up to 15 entrepreneurial competencies of the EntreComp Framework.
LRGS have worked closely with Lancaster University throughout the project, and we are delighted that LU will be awarding the Certificates to our students at Foundation, Intermediate or Advanced Level at our Presentation Evening on 6 July. Students will also receive a digital badge awarded by LU which they can attach to their digital CV.
So back to the visit! Participants from the UK, Italy and Romania took part. Mornings were spent on entrepreneurial activities such as creating and marketing sustainable products made from beads, delivering 'Elevator Pitches' on social enterprise ideas, putting together sustainable holiday packs for tourists to Cyprus and filming tiktok videos to promote the EntreComp competencies. There was also time for water volleyball and races in the adjacent hotel pool!
Later afternoons and evenings were our opportunity to discover more of Cyprus. We had a memorable peace tour of the divided capital of Nicosia, crossing the border and appreciating the cultural differences of the two areas. We visited a traditional hill top village and viewed craftsmen and women working on silverware and lace using techniques originating under Venetian control of the island in the 15th century. We also enjoyed an afternoon on Fig Tree Bay: a beach with the bluest sea I've ever seen. One of our students was lucky enough to spot a turtle before it swam off surprisingly quickly!
Highlights were the interactions between the students, who quickly overcame any language differences and communicated effectively throughout. The elevator pitch from a Social Action group whose idea was to rescue Cyprus's many stray cats was very persuasive, especially the contribution from an Italian student with limited English: 'Miaow Miaow'! Overcoming cultural differences such as the Italian group's casual approach to timings and their sudden disappearance into shops, was a learning experience. And a definite highpoint was enjoying a traditional Cypriot mezze with the whole group alongside an OL, Will Whitton, studying Medicine in Nicosia, and singing Happy 17th Birthday to one of our students who was presented with an amazing vegan cake by Emphasys.
I am so glad that we were able to travel to Cyprus (overcoming travel restrictions and airport delays!) and celebrate the development of the EntreComp Certificate. The LRGS participants were exemplary throughout. We are very proud of our new award which accredits the entrepreneurial spirit of young people and is being eagerly welcomed by careers experts. It is already supported by Lancaster University and several local businesses. Moving forward, we are looking for further endorsement of the award from the likes of UCAS and top employers.
If you would like to find out more about the EntreComp Certificate, check out our website, online platform and YouTube channel:
www.training.entrecompcertificate.eu
https://www.youtube.com/channel/UCGHhGJ1EhZk4PhCJjr4Vzag
or contact Louise Wareing at lwareing@lrgs.org.uk