RSB Young Photographer of the Year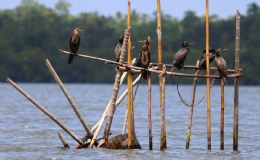 The Royal Society of Biology awarded Ashwin as the winner of their Young Photographer of the Year Award.
Ashwin's winning entry captured cormorants perching on the poles left by fishermen waiting to spot fish in the water below – a more positive example of human and nature interacting.
Ashwin said of receiving his award: "I was inspired to photograph the subjects of my photo after seeing how birds in Sri Lanka, the cormorants, were utilising man-made objects to their own advantage to catch fish.
"I like how the photograph depicts how the natural world is adapting to human influence – humans and nature do not have to be seen as foes but can be allies, that work together.
"I feel very proud to have won this prestigious award."
This year's competition theme was "Our Changing World," with the judges looking for images that highlight the dynamic nature of wildlife, sometimes catalysed by human impact.
The competition was judged by Tim Harris from Nature Library and Bluegreen Pictures, Tom Hartman, program chair of MSc in Biological Photography and Imaging at the University of Nottingham, Alex Hyde, a natural history photographer and lecturer at the University of Nottingham and Linda Pitkin, an expert underwater photographer.
Well done to Aswin for winning such a prestigious award.