A-level Results Day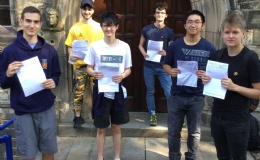 Lancaster Royal Grammar School Sixth Form students received their A-level results today. On a results day like no other before, we congratulate all of our students for their achievements.
Headmaster Dr Chris Pyle said: "We are enormously proud of our Upper Sixth leavers of 2020, who have contributed so much to the school. This outstanding year group has achieved a huge amount across a whole range of academic and all-round activities.
It was a significant blow for them not to complete their Upper Sixth year, to miss out on the milestones of leaving school, and not to have the opportunity to prove their academic achievement in the A-level exams.
It is excellent to see them heading to a wonderful array of competitive university courses as well as other options. Outstanding grades reflect their hard work and ability, as well as the exceptional teaching which is the hallmark of Lancaster Royal Grammar School.
However, some of the school's assessed grades have been downgraded. This is immensely disappointing for a number of individuals, and we are supporting them as they appeal.
I know that these talented students will go from strength to strength. Their positive attitudes and the way that they have supported one another in recent months has been exceptional. They go with our very best wishes!"