History Department Commended in The PTI Inaugural Bernice McCabe Award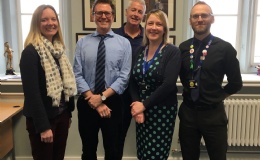 The PTI has announced the History Department at Lancaster Royal Grammar School as commended for the inaugural Bernice McCabe Award.
Bernice McCabe OBE, who sadly passed away in February last year, was the founding co-director of the PTI and believed in the transformative power of inspiring subject teaching.
The Award has been created to remember Bernice and to promote and celebrate excellence in subject leadership in schools and will be awarded annually to a practising subject leader in a PTI member department.
The History Department at Lancaster Royal Grammar School have been using field work and debate as tools to improve historical thinking. The department was commended due to their exciting and refreshing redesign of the curriculum.
Hugh Castle, Head of History at LRGS said: "The PTI subject leadership programme has been a potent vehicle for developing and implementing our ideas. In particular, Parallel Histories has affected real change not just in our school but in schools in our region by bringing historical controversy back onto the curriculum and by drawing students together to investigate and debate contested historical issues such as Israel/Palestine".
Chris Pope, Co-Director, The PTI, said: "The Bernice McCabe Award will be awarded to a PTI member department which has demonstrated inspirational subject teaching, which is what Bernice believed should be at the heart of a good school. We are very proud of all the PTI members who inspire the next generation through their love of their subject, and we are delighted to have this opportunity to celebrate the exceptional work of the winning, Highly Commended and Commended departments. Bernice leaves us with a wonderful legacy, and all the teachers involved are richly deserving of this recognition."
Professor Steve Munby CBE, Judge, said: "The quality of the applications for this award was extremely high and the judges were hugely impressed with each of those shortlisted. Powerful and effective subject leadership can transform learning for young people and the judges were clear that this was the case in the History Department at Lancaster Royal Grammar School."
The prize consists of £5,000, which is to be used to advance the values of the PTI within the winner's school, to fund release time and travel to visit other schools and disseminate the work which has been recognised by the Award. A trophy awarded to the winner was designed by award winning designer, Sophie Conran and will be passed onto future winners annually. The PTI inspires teachers and school leaders to become more effective, enthusiastic and influential by putting subject-centred teaching at the heart of schools.
The judging panel consisted of Professor Steve Munby CBE (Chair of the Teaching Awards Trust), Carolyn Roberts (PTI Co-Director), Rod Mackinnon (Bernice's husband, former Headteacher, and Education Consultant), Professor Dame Alison Peacock (CEO of the Chartered College) and Professor Helen Cooper (formerly Head of the English Faculty at the University of Cambridge).