Production of Hangmen Raises Over £2000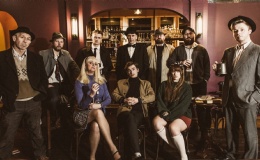 The Northern Company of Actors, set up by drama teacher Nici Marriott in 2022, has raised over £2000 for St John's Hospice and Rosemere Cancer Foundation in their recent production of Hangmen.
Four Old Lancastrians; Morgan Cvetkovic-Jones, Rowan Harris, James Smedley and Nick Rafferty starred in the show.
They staged Hangmen by Martin McDonagh in local pubs in Lancaster including The Pub, The Gregson and the Golden Lion.
Nici Marriott said: "The Company came about from a desire to give local actors the opportunity to perform in alternative venues and share their passion for performance with the local community whilst simultaneously raising money for local charities close to our hearts."