Apply now for 11+ entry in 2023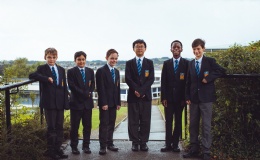 Parents of boys currently in Year 5 who are interested in applying to Lancaster Royal Grammar School for entry in Year 7 in September 2023 are encouraged to complete the online application form now.
The application form should be completed here after reading the Admissions information.
Families of boys in Year 4/5 are welcome to attend the school Open Day on Saturday 18 June, from 9am to 1pm. This is a great chance to see the whole school in action. Come and meet our teachers and pupils, tour the school and take part in science experiments, sample some tasty snacks in Food Tech, experiment with foreign languages - and much more! The last tour leaves the Assembly Hall at 12.15pm and the Headmaster will give a welcome talk at 10, 11 and 12 o'clock.
For those interested in Boarding, you can visit our junior boarding house and meet staff and current boarders whilst joining us for afternoon tea – please register here if you would like to attend.