National Geographic Competition Entry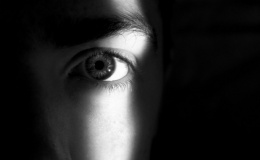 The National Geographic has selected an image by a LRGS Sixth Form student to promote a new project which aims to put the mental wellbeing of teenagers in the spotlight.
The idea of using photography as a medium for expressing feeling is the thinking behind of a new initiative, Show and Tell, supported by some of the UK's leading photographers. Its aim is to challenge young people between the ages of 11-18 to consider the emotion behind making an image. Their entries will be submitted for consideration as part of a national exhibition scheduled for 2021.
Joshua's entry, shows a face in darkness illuminated by a band of light. "I feel isolated by the restrictions of our world right now. My photo illustrates the struggles of lockdown, how it feels like we are trapped inside. The light cast across my face represents an opening of a door... a barrier between myself and a place of light, which is a metaphor for how I feel."
Congratulations to Joshua from all at LRGS for being selected to appear in such a prestigious competition.