National Air Squadron Trophy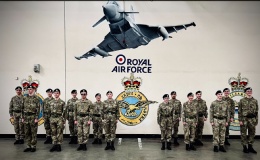 The RAF cadets attended their first NAST competition for the past 26 years after coming second in their regional competition.
The NAST competition tool place at RAF Halton, Buckinghamshire.
This is an excellent achievement for the students in Year 10 - Upper Sixth and ranks them in the top 6.5% of RAF CCF sections. This has taken much hard work and dedication from the entire squad, who have participated in over 40 hours practice outside of normal cadet times, as well as in many of the CCF sessions.
The competition involved being inspected in multiple aspects, such as; drill and uniform, general service knowledge, a command task (a leadership exercise in which both the leader and the team are assessed), aircraft recognition, air rifle shooting and first aid.
A special mention to Sgt Lentell who also won the individual prize for Air Recognition.
Congratulations to all our dedicated RAF cadets and keep up the great work.