New Middle School Prefect Team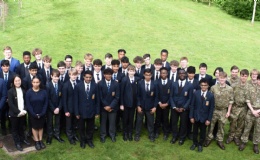 We are delighted to introduce our Middle School Prefects who have been given their new roles this week.
Pupils in Year 10 have been assigned a role as either a Form Prefect, a Sport Prefect or a Mentor Prefect, and they will support Year 7 pupils. They will be guided in their Prefect roles with support from Sixth Form Prefects and the Head of Middle School, Mrs Sarah Boak.
Mrs Boak, has set up this new initiative to give additional responsibilities to middle school boys. She said: "The number of applications was overwhelming and the quality outstanding. It was a very difficult decision to select the final Prefects because the standard was so high. Well done to all, I look forward to us all working together to support Year 7 students."