Masterchef Year 9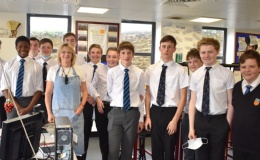 Year 9 put their culinary skills to the test this afternoon, serving dishes fit for their heroes.
All guided by Mrs Mossop and judged by an expert panel.
There were a wonderful array of main courses and desserts and the results are now in...
Winner of the main course was Oliver with his Surf and Turf - fillet of beef with scallops and king prawns served with Pomme Anna potato, asparagus and champagne sauce.
Highly Commended was awarded to Eoin for serving seared scallops, colcannon and black pudding.
Winner of the dessert category went to Tom for his vegan carrot cake with lemon butter cream.
Highly Commended was awarded to Daniel for his apple crumble with vanilla whipped cream and a fruit berry smoothie.
Congratulations to all who took part and to Mrs Mossop for organising this wonderful opportunity.
Please visit our Facebook Gallery for more photos.