Lenten Charity Cheque Presentation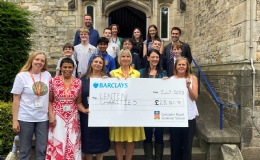 It was wonderful to welcome the organisations benefitting from our Lenten charity fundraising efforts into school today to receive their share of the £25,961 raised.
Representatives from Money For Madagascar, St John's Hospice and Team Reece came along and shared how the money will be spent. It was great to hear how donations from LRGS will help to improve lives for children in an orphanage in Madagascar, this donation will be spent on providing extracurricular activities for school age children. St John's Hospice rely on donations from the community to 'add life to the years' of the patients they support. Team Reece have used last year's donation to bring together world leading experts in children's brain cancer in a conference and will use the money raised this year to go towards an additional holiday home, a vital resource that offers families the precious time they need together following cancer treatment.
Cancer Research UK and Human Appeal have also received a donation, however were unable to attend today's presentation.