Lancashire Cup Champions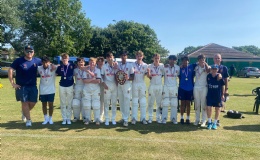 Congratulations to the U15A cricketers who won the Lancashire Cup this week. They worked incredibly hard and deserve this victory.
In the final, they met Manchester Grammar School. MGS batted first and were 83 for 3 off 12 overs, looking at posting 140+ at this stage. Some excellent bowling and glove work behind the stumps from Will Wareing, Faizan Ghumman, Ed Pearson and Nishanth Arun bowled MGS out in the 20th over for 118. An incredible turn around.
LRGS went into bat and got off to a positive start. 45 for 0 off 6 overs. Siddarth Mourughan and Faizan Ghumman opening the batting. Siddarth fell shortly after and in came George Willan. The score rapidly increased to 99 for 1. Wickets started to fall, and MGS started to gain some momentum in the game, applying pressure to the incoming batsmen, Ed Pearson and Sachal Salman.
LRGS needed 1 run of 6 balls. Ed Pearson on strike. The ball is bowled, full and wide of the off stump, and the ball is guided past the fielders close in, running away to the boundary, crowning LRGS U15s Lancashire Champions.
Later this week, the boys will represent Lancashire, as they compete in the National North Competition, playing against the winners of Yorkshire, Cumbria and Durham. There are only 8 schools left in this competition. Good luck lads!