LRGS Supports Alumnus to Study in Jordan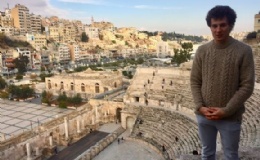 Former pupil Joshua Hillis has recently returned from a trip to Jordan which was funded, in part, from a grant given by Lancaster Royal Grammar School.
As an Old Lancastrian, Joshua applied for financial support from the LRGS Dowager Countess Eleanor Peel Trust and received a contribution of £600 towards his travels to Jordan to improve his Arabic studies.
Here is a report from Joshua Hillis about his time in Jordan:
"I travelled to Amman, Jordan at the end of 2018 in order to improve my Arabic. I had studied Arabic as an extracurricular course, during my undergraduate degree at Oxford University. These weekly classes had given me a good grounding in Arabic grammar but I knew my spoken Arabic needed some work. The first class at the Qasid Institute in Amman quickly confirmed that impression: three hours in Arabic certainly gives you an accurate assessment of how good your Arabic is! I had chosen an intensive course for a reason though and undoubtedly the most enjoyable part of my three months in Amman was the extent of the development of my Arabic. Receiving a grant from the Dowager Countess Eleanor Peel Trust enabled me to undertake course, and to devote my time to the development of my Arabic.
The thing that people do not tell you, when you begin learning Arabic, is that you are actually learning more than one language. Sentences in regional dialects can have a different structure, and even different words, to a sentence with the same meaning in Modern Standard Arabic. Most people from the West learn Modern Standard Arabic: it is the language of newspapers, official documents and professional work. My morning classes in Amman focused on Modern Standard, developing my knowledge of complex grammatical structures and my ability to read, write and speak about academic, political and professional topics. I knew, before arriving in Jordan, that Modern Standard was not particularly practical for everyday matters. The grant from the Peel Trust enabled me to sign up for additional classes in the evening. These classes focused on the Jordanian dialect of Arabic. I may have been able to have a conversation in Modern Standard about the history of Arabic newspapers but at last I was learning how to direct a taxi driver to turn left, or how to buy a kettle! The grant enabled me to advance considerably my ability to use Arabic professionally, and to pick up some Jordanian dialect that helps in everyday life.
Jordan is sometimes known as "the Hashemite Kingdom of boredom" (the Hashemites are the royal family), in comparison to its 'more exciting' neighbouring countries. I was certainly not bored though by the variety of experiences that Jordan offered. Floating in the Dead Sea, visiting a Roman city almost entirely still standing, wandering around desert palaces and castles from the Crusades, camping out in the desert, and of course marvelling at Petra, made famous by Indiana Jones, were all fantastic experiences. The variety of food though lingers most vividly in my memories, with Jordanian, Yemeni, Syrian, Palestinian, and Lebanese food readily available. Jordan constantly revealed new layers of itself, not least through chatting with the locals.
The Peel Trust enabled me to spend three enjoyable and formative months in Jordan. As a result my language skills and my understanding of the region have developed considerably. While I was there, i was able to continue my work for the charity Parallel Histories. I am grateful to have been awarded a Winston Churchill Memorial Trust Fellowship to continue with this work. My improved skills and knowledge will help me when I return to the region, as part of my Fellowship."
All our former pupils are eligible to apply to the Dowager Countess Eleanor Peel Trust. For more information please visit our website.