Her Majesty Queen Elizabeth II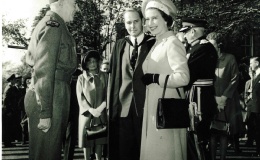 As we mourn the loss of Her Majesty Queen Elizabeth II, we express our sincere condolences to the Royal Family and commemorate with pride the Royal links to Lancaster Royal Grammar School.
Queen Elizabeth II visited the school in 1969. She walked past Old School House and the New Building, both sides of East Road lined with pupils, and she toured some of the school's buildings and classrooms.
The Queen's father George VI, The Queen Mother and her sister Princess Margaret visited the school in 1951; and her daughter Princess Anne visited LRGS in 2001.
The school owes its royal title to her great-great-grandmother Queen Victoria, who allowed us to add "Royal" to our name in her honour. A statue of Queen Victoria stands above the Library door, and the Queen's Prizes are the senior academic prizes awarded at Speech Day.
One of the monarch's titles is "Duke of Lancaster", marking their possession of the Duchy of Lancaster which includes Lancaster Castle. One of the governors of LRGS is still appointed by the Duchy of Lancaster today. The lion and fleur-de-lis on the school crest also mark our link with the Royal Family.
The Queen dedicated her life in service of her country. She embodied our school motto: Praesis ut Prosis - Lead in order to serve. May she rest in peace. God Save the Queen. God Save the King.