GCSE Results Day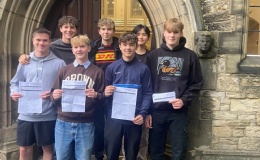 Pupils from Lancaster Royal Grammar School are celebrating excellent results in their GCSE examinations today.
More than half of all pupils gained at least seven grades 7, 8 and 9 in their GCSEs (the equivalent of former A and A* grades).
39% of results across all subjects were awarded the very top 8 and 9 grades. Twenty-five students are celebrating seven or more GCSEs at grade 9, including five students who achieved 10 or 11 GCSEs at grade 9. Three boys gained eleven grade 9s and eleven boys gained nine or more grade 9s.
Headmaster Dr Chris Pyle said: "It is fantastic to see the energy and hard work of all our pupils recognised in their excellent grades. Congratulations to our students on an excellent set of GCSE results, which will be a springboard to their further success at A-level and beyond.
"We are proud of every single one of our pupils. Congratulations both to the highest achievers and to all who have worked hard for such well-deserved results.
"It is a privilege to work with such motivated students. I am very grateful to all our teachers as well as support staff at Lancaster Royal Grammar School who have helped our pupils towards these achievements."