Douglas Cameron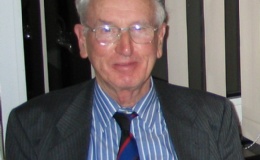 It is with great sadness that we report the death of Mr Douglas Cameron who passed away on Sunday 10 January 2021 at home.
Douglas Cameron joined LRGS in 1953, appointed by Mr Timberlake, and Douglas was proud to say that he was the last surviving member of staff to be appointed by Timberlake!
He joined as a teacher of Physics and Maths and in 1956 he joined School House as a Boarding Master, when School House was still the Headmaster's House. He stayed in boarding for 30 years.
In 1972 he became Head of the Physics Department and led the department until 1984. He was equally as well known for services to Cricket and was appointed Master i/c Cricket in 1958-1982.
In 1963 he was joint Manager of the U19 Lancashire Federation and in 1985 his services rewarded when he was made a Vice President of Lancashire County Cricket Club.
Douglas was dedicated to LRGS life in every way. He retired in 1991 but within a year he was appointed as a School Governor and served from 1992 – 2020. He was one of the first two members of staff to serve as a School Governor.
As an Old Lancastrian, we think he must hold the record for the member of staff who attended the most OL dinners!
His wife Mary also gave a huge amount of her life to LRGS and sadly died in September 2017.
"Fostering a greater than usual sense of loyalty and devotion to duty, he has taken his work more seriously than many. But born with a quick brain and a great sense of fun, he takes himself less seriously than most. He has been for lots of us the best of colleagues for many years." Written with information from an article in the 1991 Lancastrian by BAS Salmon on Douglas's retirement (available to read in full below).
Thank you for all the additional messages of condolence and for sharing your memories of Douglas with us.
Douglas's funeral will be held on Wednesday 27th January at 1:30pm and due to the ongoing restrictions, unfortunately attendance is strictly by invitation only.
The funeral service will be streamed live, if you would like to watch the ceremony click here and input the details below
| | |
| --- | --- |
| Name | DOUGLAS HOWARD CAMERON |
| Location | Lancaster and Morecambe Crematorium - Default Chapel |
| Date & Time | Wednesday 27/01/2021 13:30 |
| | |
Password: pqykbbsd
Please read through the step by step Webcast instruction document below before using the webcasting service to ensure your system is compatible.
When restrictions allow, we look forward to hosting an event to celebrate Douglas's life.
Thank you for all the donations that have already been made to St John's Hospice in lieu of flowers.