Sixth Formers Design and Manufacture Specialist Toys for Local School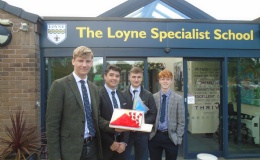 Lower Sixth students studying A-level Product Design have been working on a project with The Loyne Specialist School to design and make toys for their pupils.
Sixth Formers visited the Loyne School recently to present teachers and pupils with the toys they have designed and made.
The project has been a great success and involved the boys paying a visit to the school earlier this year to talk to staff and pupils about what toys they would find useful. They then set to work on designing and producing four different sensory toys and have re-visited the school recently to present their finished designs.