UAE Cricket Tour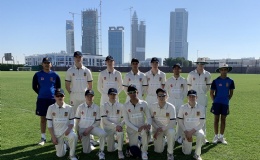 The boys had a fantastic time during February half term on the UAE cricket tour.
In summary the 1st XI won all 4 games and beat Dubai College, Reigate Grammar School, Zayed Cricket Academy and Haileybury School. The last game being under lights in the Test match stadium in Abu Dhabi.
There have been some terrific highlights on the pitch, but playing under lights and training at the ICC HQ was incredible. Off the field they took part in a desert safari; visited the 6th largest mosque in the world; went to the Burj Khalifa; enjoyed a cultural talk and traditional lunch; cycled around the Abu Dhabi F1 Grand Prix track and bumped into a few Old Lancastirans!
Senior Player of The Tour
H.Malik - 45 & 79* in the two T20s
Y.Chhabra - 70 and 73* and totalling 162 runs on the tour.
J.Eccles - best bowling figures on tour, 5 wickets for 40 runs v Dubai College and overall taking 13 wickets.
J.Derham - outstanding Captaincy, 3 wins when in charge.
A.Parkinson - totalling 114 runs.
S.Ali - wicket keeping over 150 overs.
B.Schofield - 3 wickets for 12 off 8 overs v Reigate GS.
Young Player of The Tour
F.Whatmuff - taking 10 wickets in total, including a hat-trick in the 1st XI T20.
R.Ram - 4 wickets for 21 runs in the 2nd XI T20.
E.Collinson - brilliance in the field and death bowling in 1st XI T20.
D.Chandresakar - 18 runs off 21 balls in the 2nd XI T20.
Best Cricketing Moment
J.Derham - direct hit run out v Zayed Academy.
B.Schofield - wicket with the 2nd ball of the match v Reigate GS.
R.Ram - cleaned bowled Haileybury 2nd XI batsman, taking stump out of the ground.
F.Whatmuff - hat-trick v Haileybury 1st XI in the T20.
H.Malik - diving catch at Dubai College
Best Senior Tourist
C.Wilkinson - outstanding company and great working with the youngsters.
Best Young Tourist
E.Collinson - brilliant attitude, helped other tourists and led by example.
Parents Voted Player of The Tour
J.Eccles - Top wicket taker with 9 votes.
Y.Chhabra - Top run scorer of the tour with 8 votes
Visit their Twitter feed for more details and to see their amazing photos.