Junior Schools' Challenge Quiz Winners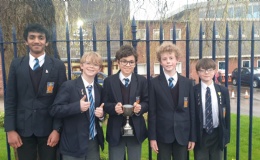 A huge well done and congratulations on the outstanding performance of our quizzers yesterday!
Representing LRGS were: Jeevan, Max, Stanley (cpt), Angus and Ted.
They triumphed over 7 other very strong teams in yesterday's north-west regional qualifier of the Junior Schools' Challenge Quiz.
Mr Rafferty took the boys to the competition and here is his report:
"In our groups stage we overcame Stockport, AKS Lytham and the hosts, Bury, to top the group with 3 wins out of 3: each 15-minute game by a score of approximately 300 to 100.
This meant a semi-final against our historic rivals for the trophy, Merchant Taylor's but once again, the boys cruised to victory, winning 730-260 in this half hour long match.
In wishing us well for the final, the Merchant's boys warned us that Calday Grange were "awesome" and "really fast on the buzzers" which did nothing to settle the pre-match nerves of the LRGS quizzers.
These nerves, however, seemed to really focus the boys and we started the final superbly, romping into a 550-120 lead at the half-way stage. Calday came back strongly in the second half but the LRGS boys kept chipping away and finished the game victors by a score of 700-360.
Considering that these boys have had no competitive quiz practice due to there being no tournaments for the past 18 months, coupled with the fact that the LRGS Junior Quiz League hasn't run this year, this was a fantastic effort.
Special mentions go to the two years 7s in the team: Stanley, who captained the team so calmly and maturely - and Angus who was superb in the group stages but graciously stepped aside for the semi and the final to ensure that each of the five boys played a fair amount of games.
I'm really proud of the lot of them and they were great company for the day!"