Prize Giving Parade of the CCF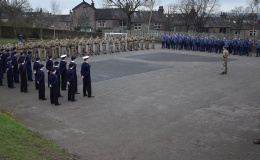 All sections of the Combined Cadet Force gathered for the annual prize giving parade on Tuesday 7 February.
The annual prize giving parade for the Navy, RAF and Army features students from LRGS and LGGS together.
Headmaster of LRGS, Dr. Pyle, and Headmistress of LGGS, Mrs. Cahalin, were in attendance along with Professor Alexander, representing the Old Lancastrian Club. Guests of honour Professor Oglesby and Mr. Wellings presented the Oglesby Wellings sword in memory of their son Giles who was himself a senior cadet.
This year two new prizes were awarded, namely the Section Commander's Commendation and the Commander's Cup which was awarded for outstanding leadership.