The Set Run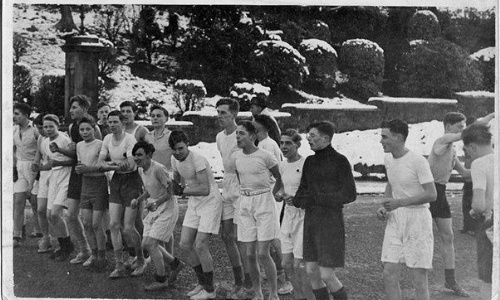 The Set Run is at the centre of our Lenten Charity fundraising. In the last week of term the whole school runs an undulating four mile course, starting on the Memo Fields and ending outside Ashton House. It may be character-building, but the atmosphere is always cheerful!
Energetic records of running at the school date back many years. In 1890, for example: "The Head Master's birthday was on Monday, March 10th. A half-holiday was granted, and a paper-chase took place. Reaching the County Asylum the hounds [runners] crossed the fields to the Caton Road and at the Crook of Lune were seven minutes behind the hares. The trail led round by Quernmore and Littlefell and thence home. The distance was about nine miles."
The "Sets" were the Houses of the school, and the Set Run itself can be traced back for over one hundred years: "The Lent Term, 1912, will be noted in the annals of the School for the revival of the Cross-country run between the four Sets. The runners were started from the Park Gates by Mr Deeds, and were accompanied by a fair-sized gathering of cyclists."
The original course was longer than today's. It followed lanes towards Scotforth and Cockerham, and finished with a steep hill up Quarry Road. "The course is not an easy one," said the race report. Thankfully our route no longer includes that climb!