Nobel Prize Winner Opens Biology Laboratory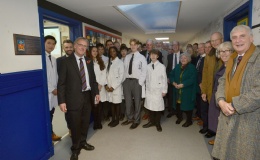 Thank you to Professor Sir Peter Ratcliffe FRS, Old Lancastrian and winner of the Nobel Prize in Medicine or Physiology 2019 for opening our new Biology laboratory on 11 November 2023.
Thank you to the Wolfson Foundation and to Noel and Shirley Buller for their generous donations, which have created this new facility that may one day produce another Nobel Prize winner!
Mr Millatt, Head of Biology at Lancaster Royal Grammar School said: "The new Biology laboratory will benefit all our current pupils and many future students. By enabling us to improve our learning environment, we hope to inspire the next generation of scientists and who knows, we may produce another Nobel Prize winning Biologist."
Headmaster Dr Pyle said: "We are enormously grateful for the donations given by The Wolfson Foundation and Noel and Shirley Buller which have been used to create the new Biology Laboratory. The Wolfson Foundation awards grants to support and promote excellence in education, science & medicine, the arts & humanities and health & disability. Noel and Shirley Buller left a generous bequest to LRGS. Noel Buller was a much-loved teacher and member of the LRGS community. He was appointed by John Spencer in 1965 to teach technical drawing and lower school Maths."
It was wonderful to have current students on hand demonstrating a range of experiments for our esteemed visitors. Thank you to all our distinguished guests including former Headmaster Mr Peter Mawby (for whom the Mawby Science Centre is named), former staff including Mr Mike Ryan and LRGS Governors.