Celebrating A-level Results ​​​​​​​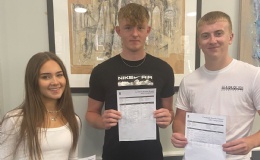 Many congratulations to all our Sixth Form students who are receiving their A-level results today. Almost half of all results are A* or A grades (48.2%), and well over two thirds of all results (70.4%) are A*, A or Bs.
Seven pupils achieved four A* grades and ten others achieved three A*s.
Headmaster Dr Chris Pyle said: "Huge congratulations to every single one of our students on these outstanding A-level results. Today is a day to celebrate and enjoy their success. It is excellent to see our students progressing to a wonderful array of university courses, degree apprenticeships and other opportunities."
"We are immensely proud of our Sixth Formers – girls and boys, boarding and day – for all they have achieved over the past two years. Some have come through particular challenges. They have also contributed hugely to the life of the school beyond the classroom. "
"Thank you to staff for providing the exceptional teaching and pastoral care which are the hallmarks of Lancaster Royal Grammar School."
"Very best wishes to our Sixth Form students as they prepare for the exciting next stage of their journeys. I know that they will go from strength to strength."