Record-Breaking A-level Results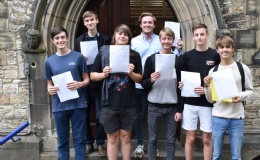 The school's largest ever Sixth Form year group are celebrating record-breaking results.
Students achieved the school's highest ever proportion of A* and A grades (62.9%), with more than three-quarters of all exams were graded B or above (76.9%). Almost one third (32.8%) of exams were awarded the very top A* grade, again exceeding previous records. Thirty-two students achieved at least three A* grades or the Pre-U equivalent.
This is the year group whose GCSE exams were cancelled in 2020, and whose Sixth Form years included restrictions and remote learning.
Headmaster Dr Chris Pyle said: "Our Sixth Formers deserve huge congratulations for the hard work that has gone into these fabulous results. We are very proud of every single one of them for their achievements."
"Today is about celebrating the hard work of all our students who have achieved so much despite the challenges of the past two years. Some of them have come through difficult personal circumstances to achieve very impressive results. It is fabulous to see them gaining the recognition they deserve, which will open the doors to exciting opportunities ahead."
"This wonderful group of students have set a great example of academic achievement, extra-curricular commitment and leadership within the school. We are delighted at their success."