A-level Results 2021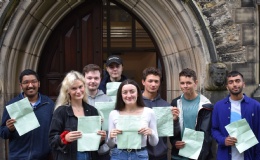 Congratulations to all our Sixth Form students who are receiving their A-level results today.
Headmaster Dr Chris Pyle said, "Huge congratulations to our students on these outstanding A-level and Pre-U results, which reflect their work and ability throughout the course. It is excellent to see them progressing to a wonderful array of university courses and other opportunities. Very well done to every single one of our students!
"We are immensely proud of our students for the determination that they have shown despite all the disruption to their Sixth Form education. They are a multi-talented and hard-working group of young people who deserve great credit. They have supported one another brilliantly and contributed much to the school and wider community. They are particularly special as our first coeducational year group.
"Thank you to staff who have guided pupils through the past two years, providing the exceptional teaching and pastoral care which are the hallmarks of Lancaster Royal Grammar School.
"Very best wishes to our Sixth Form students as they celebrate today's outstanding results and prepare for the exciting next stage of their journeys. I know that they will go from strength to strength."