Entrepreneur Challenge Success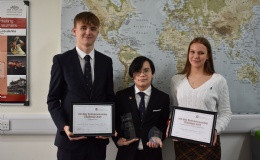 Business Studies A-level students recently won the 100-Day Entrepreneurship Challenge organised by Lancaster University Management School (LUMS).
Congratulations to Alfie, Grace and Isaac who were named winners after impressing the judges with their business concept, marketing materials and excellent pitch. They designed an eco-friendly, compostable dog waste bag called POO-CH.
The challenge set by LUMS was to come up with a business idea and put together a plan in 100 days. Students had to make up a team of up to 6 people and put their creativity, business knowledge and entrepreneurial skills to the test.
The business plan had to be based on an idea that will address one of the UN Sustainable Development Goals.
As part of the challenge they also had to produce a short presentation outlining their business idea, and a ​poster/visual business plan/display setting out their ideas.
All teams benefitted from having the opportunity to receive mentoring from LUMS Entrepreneurs-in-Residence (EIRs) and academic staff.
Thank you to Lancaster University for giving our young entrepreneurs the opportunity for real world business experience.
Well done to our other teams who also took part, there were some great ideas, including; 'The Four Day Week Initiative', 'Sante Nutrition', 'Relief' a mental health and wellbeing scheme and 'Animos' an animal sponsorship scheme.