Success for Enterprising Students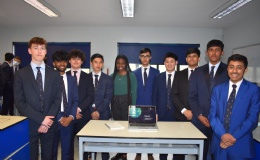 Two teams of Sixth Form Business Management students have been successful as a result of their impressive performance in the national Young Enterprise showcase.
Team Learn 2 Do won Lancashire Company of the Year and additional awards for Best Report and Presentation and team Nova won an additional award for best Teamwork.
Team Learn 2 Do developed affordable science kits that could be purchased by both schools and parents. These kits work alongside online resources, designed with care and dedication, supported with demonstrations, notes and activities to energise and maximise the learning experience. Team Nova developed an online revision course for Biology students, which include creative videos and interactive quizzes. Both teams had to create and sell their own product, produce a company report, and deliver a presentation to a panel of judges. Thousands of schools across the UK have entered the competition.
Sally Hopkins, Lancashire Area Manager for Young Enterprise said: "Our Judges were suitably impressed and have a clear winner across 3 of the 5 awards." The winner of the Best Report, Best Presentation and Lancashire Company of the Year 2021 has been awarded to Learn 2 Do from Lancaster Royal Grammar School. Many Congratulations Learn 2 Do."
On assessing team 'Learn 2 Do' she said: "What a great product, your enthusiasm shone in your presentation and your report. You made the judges want to purchase and they really bought into your passion and credibility as an organisation. Clear from the beginning, lots of research and testing of the product. Questions were answered articulately and with more of the enthusiasm demonstrated during the presentation. Calm under pressure Learn 2 Do delivered in every aspect."
On awarding team Nova the winner for Teamwork and also a runner-up prize, Sally Hopkins said: "A fabulous concept brought to life with a lot of hard work and expertise. The judges would like to recognise the team effort that went in to this company and how that was highlighted and elaborated on in your company report. There was a feeling of Nova having more to give and with a little more time on your side you may be able to achieve more. The resilience demonstrated was also noted and a sound presentation from a very professional organisation."
Following their success in the Showcase, both teams are through to the North West regional round on May 26th.
Good luck to you all!