Welcome Back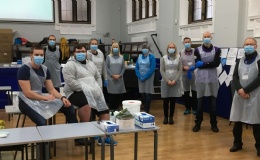 Today we welcome back Year 8 and celebrate that almost all our pupils are back in school.
There has been a mood of quiet excitement and huge relief as pupils returned to classrooms.
Headmaster Dr Pyle said: "The COVID testing operation has been excellent. I am very grateful to staff and volunteers who transformed our Assembly Hall into a highly professional testing facility. It is amazing what energy and goodwill can conjure out of thin air!"

The first phase of around 2000 tests for staff, keyworkers' children and boarders who stayed in school was completed during lockdown. The team has now scaled up for the next 3600 tests. We tested pupils from Year 10 upwards last week before re-opening on Monday. All pupils will be back in lessons today.
Pupils are offered three tests in school before moving onto self-testing at home. Almost 100% of families consented to those tests, and pupils did brilliantly to find their school uniforms and arrive on time!
Dr Pyle added: "Most of our pupils have done really well in lockdown, but there is no doubt that some have found this year very difficult. Children need the structure of school and time with their friends. They also need to be outside and offline. School isn't normal yet. Year groups are limited to their zones and there are restrictions on extra-curricular activities. Staff and pupils are wearing masks in lessons – which is not quite as miserable as it sounds! Masks and testing give extra reassurance to lots of families and staff. Our aim for the next few months is to offer the reassuring normality of school, pastoral care, great teaching, friendship and laughter. This week has been a good start on that journey."