Exciting Plans for the Upper Courts in 2023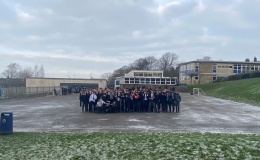 An exciting new sports facility is in the early planning stages for 2023, but we need your help!
The new facility will include an all-weather multipurpose surface on the Upper Courts and will be used by all pupils taking part in PE and Games lessons, as well as during break and lunchtimes and for after-school clubs and groups.
We will be fundraising in the New Year amongst parents, Old Lancastrians and the wider community to add to financial contributions already set aside by the school to deliver the project.
The future redevelopment of the Upper Courts comes at a time when we have been very disappointed about the closure of the school swimming pool. The failure of the pool plant along with the long-term costs to run the facility has led to the inevitable permanent closure.
Our PE and Games staff have responded quickly to fill the gap caused by losing the swimming option in the short term. We are now looking at the all-weather multipurpose surface as a long-term solution that will offer a variety of sporting opportunities for all pupils in all years from September 2023.
We will be in touch with fundraising plans and ideas in the New Year. We hope that we can count on your support to continue to improve our facilities and activities offered to all pupils, now and in the future at LRGS.