Unsolved Writing Competition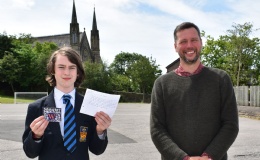 Boys in years 7, 8 and 9 have been taking part in the Unsolved writing competition.
The aim was to compose a piece of crime writing in only 100 words.
Out of over 400 entrants, the Headmaster has decided on our overall winner, Jack in Year 8.
On awarding the winner, Dr Pyle said: "A powerful and disturbing story full of psychological insight- with some great phrases, too!"
Find below Jack's story:
A Message
The blade came down again, this time in the neck, putting an end to his muffled screams. As the body fell limp to the ground, the man knew his job was done. He nonchalantly strolled through the building, setting off the fire alarm on the way. He would rather make his escape before the authorities found out. Realising his calm figure was out of place in the now panicked building, he began running, following the throng of people like a surfer riding a wave. The unhidden body didn't bother him. This wasn't about stealth; it was about sending a message.
Well done also to our 2 runners-up, Neel in Year7 and James in Year 9. All 3 have won book vouchers for Waterstones.
Thank you to Mr Rafferty for organising the completition.