Finalist in the Personal Finance Teacher of the Year Awards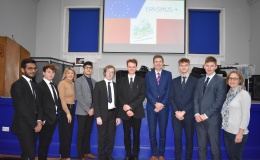 We are proud to announce that Mr Wareing has been shortlisted in the Personal Finance Teacher of the Year Awards.
The award acknowledges the work that has been taking place with Sixth Form students and the Erasmus+ Personal Finance Programme, which aims to make young people more informed of everyday financial issues including savings and investments and borrowing and mortgages.
Mr Wareing, Head of Business and Economics at Lancaster Royal Grammar School said: "Pupils have been creating resources that will be used to teach young people how to manage their money and be aware of the various opportunities and risks. Our group have been looking at investments and mortgages and have created resources to increase awareness in these issues in really innovative ways through producing engaging films and leaflets."
Mr Wareing also took a group of students to Cyprus to meet partner schools and share best practice. Talking about the trip, pupil William Salhab said: "Over the course of the week, our hard work over the past few months paid off as the modules students had made on personal finance were tried and tested to great success. Presentations by the teachers from our various schools were well-taught and informative, students learned highly useful information for their future as well as the importance of the topics in contemporary life; the work we did felt truly important to not only ourselves but young people in general."
Mr Wareing has been invited to the awards ceremony in London this June where the final announcement and awards will be made. Winners receive a share of £12,500 to spend on equipment in school which will be used to make the teaching of personal finance fun, interactive and relevant to the pupils they teach.