Nobel Prize Laureate Presents Pupils with their Prizes on Speech Day 2023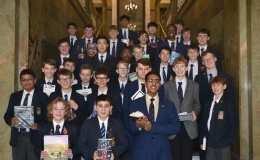 Congratulations to all students receiving prizes at Speech Day on this special year when we are honoured that Old Lancastrian and Nobel Prize Winner Professor Sir Peter J Ratcliffe awarded the prizes.
It was wonderful to host the event in the Ashton Hall in Lancaster Town Hall bringing together teachers, staff, parents and Old Lancastrians.
The LRGS Big Band entertained everyone with their fantastic performances featuring some brilliant solos.
Mr Howard Roberts, Chair of Governors, welcomed everyone before Headmaster Dr Pyle gave the report on the year (attached below). There was also a two-minute silence for Remembrance Day and Harry FitzGerald, Year 8 played the Last Post and Reveille.
It was a great honour to welcome back Old Lancastrian and winner of the Nobel Prize in Medicine or Physiology in 2019, Professor Sir Peter J Ratcliffe to present the prizes and for being guest speaker.
Sir Peter Ratcliffe gave students some excellent advice, he said: "Your achievement in life will almost certainly be due to a mix of qualities and for any one an optimal point on a scale. Accept everything, do as you're told all the time – well you will likely add nothing to the world. Accept nothing, challenge everything you will likely end up in the police station – or the headmaster's study. Success will be between the two. And the happy point about this – is that this is much easier to learn and adapt as you go forward, both in yourself and in the ventures with your partners in work and life. So, for much the best is in the middle - open your eyes it's all to play for. And I think that was one of the nebulous, unmeasurable things I learnt here, at this school, to challenge at a certain level, to be just a little bit careful about perceived wisdom."
He also talked about receiving the call to inform him that he had won the Nobel Prize in Medicine or Physiology in 2019: "It was very nice".
Sir Peter also had lots of gratitude to teachers, he said: "All future human progress and the maintenance of all human progress to date depends absolutely on education".
"Education is king, and ever more so as human knowledge extends".
Sir Peter Ratcliffe's speech is available to read below.
Finally, Head of School Ishmail Wadee gave his vote of thanks before everyone sang the National Anthem accompanied by organist Daniel Harper, Upper Sixth.