Annual Celebration for Prizewinning Pupils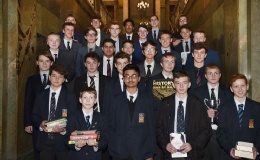 Proud parents, teachers, current and former pupils from Lancaster Royal Grammar School and a host of distinguished guests came together to celebrate Speech Day with a ceremony at Lancaster Town Hall on Saturday 16 November.
Speech Day is a celebration of the previous year's academic, sporting and personal achievements, including a presentation of prizes to pupils.
Our honoured guest speaker this year was former pupil, Christopher Wright, (Old Lancastrian 1968-74). Special guests included; Mayor Councillor David Whitaker, Dr Sherry Kothari, Dr Ian Weir, Chair of Governors Mr Howard Roberts and Mrs Roberts, Professor Rob Short and Mrs Sally Pyle.
Headmaster Dr Pyle began by celebrating the recent news of our Nobel prizewinning pupil. Sir Peter Ratcliffe, Director of the Francis Crick Institute in Oxford: born in Morecambe, came to LRGS 1965 to 1972, worked hard at school, went on to Cambridge, and last month received the Nobel Prize for Medicine for his fundamental work on cells' response to oxygen. Dr Pyle said: "My message to the school: don't think of Peter Ratcliffe as our only Nobel Prize winner, but only as our first. No pressure!"
He went on to give the report of the year highlighting achievements by pupils and staff and said: "Firstly, I need to tell you: "This is a school that creates extraordinarily positive experiences." Those aren't my words – that was the verdict of the Ofsted boarding inspectors who came before half term. And they painted the most glowing picture of our very special boarding community: from which an outstanding ethos of pastoral care emanates across the wider school. Boarding staff are proud to be part of that extraordinary team. Well done."
Dr Pyle also said one of the highlights of the year has been to reopen Old School House, new home to the History department, with a brand new Sixth Form café and study spaces in time to welcome Sixth Form girls.
In looking to the future, governors are adamant that pupils from all backgrounds should apply and thrive at LRGS and are looking to change the admissions policy to lower the pass mark for pupils receiving free school meals and pupil premium, he added: "To provide the opportunity for all pupils to do things they could never imagine: from any street to anywhere."
Finally he concluded by appealing to pupils: "Pupils: I don't know if you believe this or not, but you will achieve the most extraordinary things. There isn't another hall somewhere else in England filled with more talent and potential than this one. It will always be our job to take children from Lancaster and Morecambe and send them out into the world to win Nobel Prizes. Don't let us down! To our pupils and to all our guests today: Thank you for being part of this fabulous school."
Following the distribution of prizes, it was inspiring to hear from former pupil Christopher Wright, who described his journey from school, to Oxford and into investment banking. He recalled tales from his travels around the world, his enjoyment from working within equality in education for the Sutton Trust and his work sitting on corporate management boards and with the Scientific Exploration Society. In all his success, Christopher credits attending LRGS for cultivating his curiosity, he said: "What LRGS instilled powerfully in me – and which resonates in all that I just described, is an insatiable curiosity about people, their ideas, their different cultures and what makes economies and businesses tick."
He also spoke about what the letters: L – R - G – S remind us:
"L" – for loyalty: this may mean loyalty to family, colleagues and friends, an ideal, a faith, a political party, a country, a sporting team, a regiment and so on. Let me suggest that each of you pupils will discover and retain at least one great loyalty in life. The challenge is then to see how you can put that loyalty to good effect, to impact positively others and what they are also trying to achieved.
"R" – for resoluteness: nothing is easy in today's world, and it never really was so in times past, before major advances in medicines, technology, and of great conflict or economic crisis. Allow me to encourage each of our pupils here to stay the course; and at least find one academic subject or sport, which they might resolutely pursue to success. I firmly believe that each of you are capable of excelling in at least one field of learning or activity.
"G" – for gratitude: LRGS has long been a top performing school. It offers some fine facilities and excellence in tuition that is so easily taken for granted. Having seen school aged children in deprived parts of Africa, India and Latin America, some in poor health: I hope you, too, will in some way be very grateful for what LRGS offers here in Lancaster. We should be especially grateful to the parents and grandparents seated here who are no doubt giving all that essential support to the young ones at the school. My 87 year-old father is present today and I certainly acknowledge that he and my late mother always gave to me the greatest of encouragement in my own education.
"S"—for service: so what does this mean for me? I am closely involved with a number of philanthropic organisations in the UK and elsewhere. Let me, if I may, talk a little about the work of the Sutton Trust on whose board I have served for several years and which was founded by my good friend, Sir Peter Lampl, as a research and idea-implementation charity – a "do-tank", not just a "think- tank" – which aims to boost opportunity and upward mobility through improved access to education and skills.
Head of School Ben Anderton spoke about his time at LRGS. He said: "Whilst my time at LRGS began back in 2013, it was in 2010 that I first encountered the school. Invited to be amongst the first cohort of primary school pupils to attend the InspirUs programme. I spent 10 weeks enthralled by the content. I have since learnt that I am the first Head Boy to have attended the programme and am delighted to see InspirUs continue to prosper to this day. Without attending the programme, I may have never attended the school and thus would not be stood here before you today."
Ben offered advice to his younger peers: "While the school will teach you so many valuable lessons, my message to students today would be to embrace the journey and every opportunity that comes your way. We are incredibly lucky to attend a school that teaches you so much more than simply how to pass your exams. For up to seven years, the school becomes your home, the place that shapes you. LRGS has for centuries had a fantastic knack of turning its students into well-rounded individuals. With the right attitude and determination, everything is in place for you to succeed. All that is left for you to decide, is where the journey will take you."
We are also delighted that Debbie Garritty from The Duchy of Lancaster officially opened Old School House later in the afternoon.