Sixth Form Conference 'Discrimination and the Forms it Takes'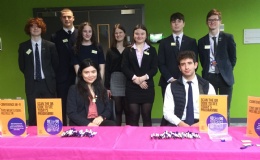 Discrimination, diversity and inclusiveness were key themes discussed at the conference held today at the University of Cumbria, organised by Upper Sixth students.
Delegates included Lower Sixth students from Ripley St Thomas and LRGS.
Head of School, Tom, opened the conference with a Kahoot quiz to get everyone thinking about the wide range of discrimination issues to be considered throughout the day.

Deputy Head, Travis, welcomed guest speaker and former LRGS student Andre Dallas (OL 2007-13). Andre spoke inspiringly about his experience and learning and how we can all use our imagination to conquer prejudice, challenge stereotypes and learn from the past to create a positive future.
All students attended three workshops to consider and discuss gender equality, racial diversity and sexism in the workplace.
Thank you to the guest speakers Julia Aglionby, Saj Ghafoor and Sam Massey and Craig Scott for running each workshop.

In the afternoon sessions, students worked in their groups to discuss key themes and then regrouped as a whole to feed back and answer the Big Question, set by Andre Dallas; In your wildest dreams, what would liberation look like to you, and what would it require to bring it about? Think locally, nationally and internationally. How do the answers differ at each of these levels?
Thank you to the University of Cumbria for use of their wonderful facilities and expertise.
LRGS Upper Sixth students were outstanding. Well done for organising such a professional, powerful and thought-provoking event.