Donations for Morecambe Bay Foodbank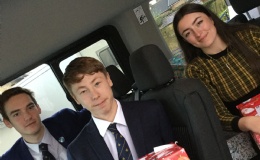 The Senior Prefect team launched the "Shoebox Project" earlier this month as a kick-starter to this year's fundraising efforts. Students and staff have done a tremendous job of filling shoeboxes for the homeless and vulnerable and they have been delivered to the Morecambe Bay Foodbank today.
Each box has been filled with 10 essential items, such as shampoo, sanitary products and other foodstuffs as well as three Christmas themed gifts for the recipient. Every form in the school was set the target to complete at least two boxes and many forms exceeded this by a mile.
We hope this is able to make a real difference to those in the community who are struggling with the effects of COVID-19 and provide them with a small source of relief over the Christmas period.
A minibus and two cars full to the brim have taken the parcels to the foodbank today.
Thank you to everyone who has contributed.