Parliament Week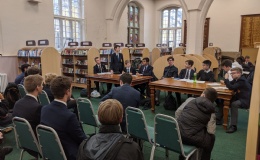 As the country gets ready to go to the polls for a general election next month, LRGS hosted lots of activities to learn more about each political party as well as delving into governance and politics during Parliament Week last week.
Kicking off the week, Councillor Caroline Jackson, the Green Party Parliamentary candidate for Lancaster & Fleetwood and Cabinet Member for Housing for Lancaster City Council visited.
On Tuesday, Year 11 pupils Alex Armer and Edward Wilkinson presented a talk during lunchtime titled: "Where are you on the Spectrum?" (Political).
There was an insightful talk with a question and answer session from student representatives in the Library on Wednesday over lunchtime. Pupils acted as representatives from each political party and presented their education and youth policies.
On Thursday we were visited by Cat Smith, the Labour Parliamentary candidate for Lancaster and Fleetwood. During her talk Cat described her typical week as an MP and due to the up-coming election, she is no longer an MP unless she is voted in on the 12 December. Cat then answered questions from the pupils on:
- Climate change and her views on extinction rebellion
- The resignation of Tom Watson and the potential narrowing views of the Labour party
- Trumps views on climate change and the option of imposing sanctions on the USA
- The Bailrigg development and potential plans regarding a bypass at Galgate.
- Views on grammar schools
- Clarification surrounding what would make a concrete Brexit plan?
The week ended with a lively debate from the Whewell Society – 'THB that Jeremy Corbyn is not fit to be Prime Minister'.