James Williamson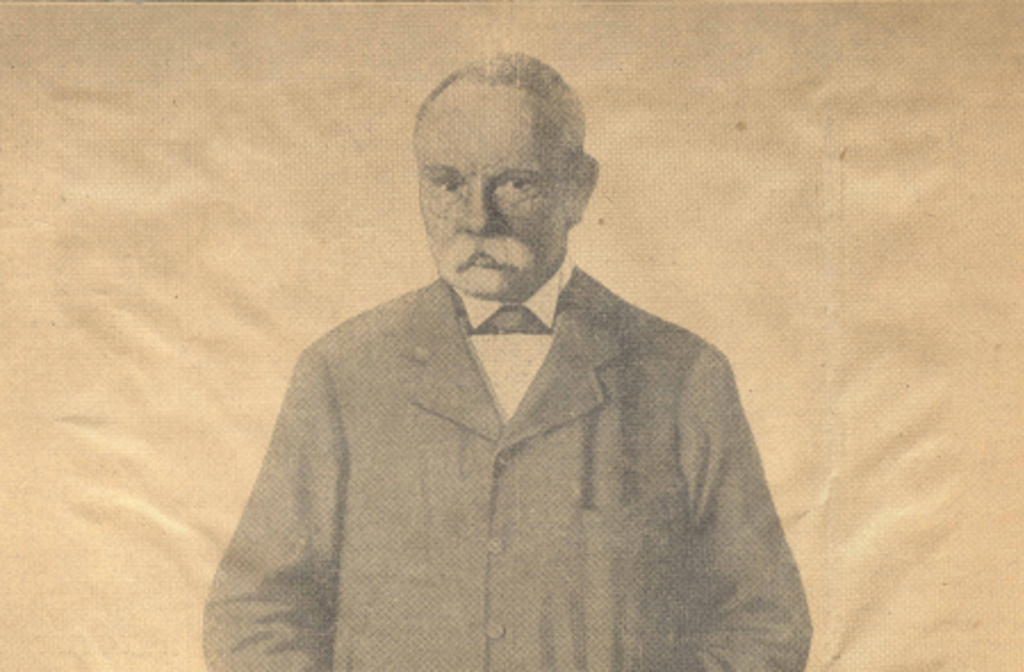 Background
Born 31st December 1842, James Williamson was the third of four children to local coated fabrics business owner James Williamson Snr. and his wife, Eleanor. James was educated at Lancaster Royal Grammar School from 1851 to 1855, later named "the greatest of that generation" by historian Athol Murray in The Royal Grammar School, Lancaster: A History. Throughout his lifetime, Williamson transformed his father's business, and married three times. He had two daughters from his first marriage to Margaret Gatey, one of whom married the grandson of Sir Robert Peel. Williamson later began a successful political career in the 1870's, obtaining a seat in the House of Commons in 1886, and eventually a seat in the House of Lords in 1895. His ventures in politics and business were rivaled by those of H.L. Storey, a fellow LRGS Old Boy and local businessman. Williamson is renowned for his generosity to both Lancaster and LRGS, and responsible for many of the major landmarks throughout the city. However, his reputation dwindled noticeably with the rise of the Independent Labour Party, with his beliefs conflicting with the party's attempts to unionise his unskilled workers. Nevertheless, despite his reclusiveness, Williamson continued to contribute to the local area and LRGS. At the age of 88, Williamson passed away on the 27th May 1930.
Business in Lancaster
Originally, the Williamson business, Williamson and Co., was centred around oilcloth and leathercloth production. In 1864, the company bought two of the canalside mills in Lancaster; Bath Mill and Greenfield Mill. James Williamson Snr. was apprenticed to a man named Richard Hutton as a painter and decorator before founding the business. Interestingly, H.L. Storey's uncle, William Storey, who co-founded Storey Brothers and Co., was apprenticed to Hutton also. The Storeys' company continuously rivaled the Williamsons' in oil and leather cloth production in Lancaster. However, the rivalry was eventually terminated in an agreement between the two businesses. After 1890, restrictions were placed on advertising, and Williamson and Co. were to focus mainly on floor cloth production.
In the 1870s, with James Williamson Jnr.'s help, the business transformed, and began producing floorcloths, linoleum, and Lancaster window blindcloth. In 1875, upon his father falling ill, Williamson assumed full control of Williamson and Co. He bought a bankrupt shipyard on New Quay and transformed it into a new mill known as Lune Mills. From 1860's onwards, Bath and Greenfield Mills began employing women. Also, during the First World War, women workers played an important role at the Lune Mills to replace the 900 men in Williamson's employment who enlisted in the army. Under Williamson's directorship, the company grew rapidly, employing 25% of Lancaster's working men by 1911. However, the Labour Party pushed for union representation for unskilled workers threatened Williamson and Co.'s reputation, as the wages paid to such workers were critiqued, despite being above average local rates.
At the 1911 Skerton elections, Williamson endorsed Liberal candidate John Turney, who won the election, but only by a single vote. Williamson noticed a growth of support for the Labour Party in Skerton, which was an area which housed a large number of Williamson's employees. As a former Liberal MP, and continuous Liberal supporter, Williamson felt that his employees had betrayed him in the election. He wrote of his disappointment in an open letter to his employees. Mass meetings were held to show allegiance with Williamson, but he remained displeased with his workforce, and turned his investments and benefaction towards St. Anne's and away from Lancaster. Nevertheless, At Williamson's funeral in 1930, over 2000 of his employees attended.
The company celebrated its centenary in 1944. However, after two world wars and the consequent economic depression, business declined throughout the 1950's and 1960's, and the company eventually ceased production in 1999.
Political Career
As well as maintaining and expanding his business, Williamson had a successful political career. His father had been the Mayor of Lancaster in 1864-1865, and within a matter of years, Williamson was following his own political pursuits, He was a prominent political and judicial figure in Lancaster, being elected its Town Councillor between 1871 and 1880. Afterwards, he was chosen as Justice of the Peace 1881, and High Sheriff of Lancaster in 1885, a position that H.L. Storey achieved in 1904. The next year, he was elected Liberal MP for Lancaster in 1886, and remained MP until 1895. He supported free trade and home rule for Ireland. In 1895, Williamson obtained a peerage and given a seat in the House of Lords, receiving the title Baron Ashton of Ashton. However, his peerage was a matter of controversy, and Williamson was accused many times of having purchased it. Despite his public life in Lancaster dwindling following 1911, Williamson was Constable of Lancaster Castle between 1920 and 1930. However, in 1923, Williamson became a Freeman of Lytham, consolidating his move to focus on the St. Anne's region.
Contributions to Lancaster
James Williamson was one of Lancaster's most significant benefactors and philanthropists and it is evident that without Williamsons' contributions to the city, its landscape would look very different today. His father built Williamson Park in the late 1870's on what had been a disused quarry, which opened in 1881. However, as James Williamson Snr. passed away before its completion, Lord Ashton completed the park, and is recorded to have given a £12,000 endowment to the park in 1880. Building the park was a great source of employment for Lancaster residents who had lost their jobs as a result of the cotton famine caused by the American Civil War. Williamson then built the Ashton Memorial in memory of his second wife, Jessie Ashton, who died in 1904. The memorial was designed by Sir John Belcher, and it was completed in 1909, recorded at having lost no less than £100,000 to build.
Williamson is recorded to have made many donations to various causes in the late 1800s and early 1900s. In 1880, he donated £1,500 to remove road tolls in order for produce sellers to access Lancaster's market freely. Five years later, he paid for a new peal of bells and a clock for the Lancaster Priory. In 1892, Williamson gave £5,000 to the new Lancaster Infirmary, as well as £1,300 towards the nursing wing. Five years later, he gave another £1,300 to relieve the infirmary of debt. Moreover, Williamson donated once again to healthcare services in 1898, giving £10,000 to the Ashton wing of the Royal Albert Institution, which closed in 1996, and was acquired by the Jamea Al Kauthar Islamic college. Furthermore, in 1904, he paid £1,000 for the Lune Bank Gardens to be established.
Lord Ashton also contributed largely to public services and areas. He paid for the construction of the Victoria Monument in Dalton Square in 1901, which cost £15,000. In 1904, plans to design a new Town Hall next to Dalton Square, paid for by Williamson, were drawn up. In December 1909, Lancaster's Town Hall opened, which was designed by E.W. Mountfield and paid for by Williamson. The building replaced the old Town Hall, which had been in Lancaster's Market Square. The new Town Hall incorporated the police station and Magistrate's court, with the fire station in an adjoining building looking onto George Street.
Contributions to LRGS
Lord Ashton was a prominent benefactor to LRGS during his life, with his donations and scholarships having a lasting effect on the school and students today. In 1900, the Manchester Courier and Lancashire General Advertiser wrote that "Lord Ashton has forwarded £2000 for the benefit of the Royal Grammar School Lancaster to Mr. Greg, chairman of the Board of Governors". Furthermore, Williamson's Ashton House Scholarship was an important donation to LRGS students in the 20th century. The LRGS archives have discovered that the scholarship was created in 1904, which paid £30 per annum to a student towards their boarding costs. Later, in 1929, Lord Ashton donated £500 to LRGS' War Memorial Library in the New Building. Today, the Ashton Memorial Prize for French is still given each year to a student from each year group. Later, in 1958, in memory of Williamson, the school's governors purchased the recently vacant Parkside Children's Home to use as a boarding house, and named it Ashton House.