New Boat Trailer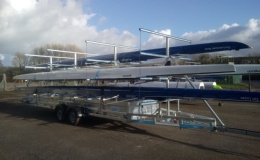 We would like to say a huge THANK YOU to the Friends of LRGS for providing us with a new boat trailer!
The new trailer arrived on the Friday before half term.
We put it straight into action that evening, loading it with boats and moving it to higher ground before Storm Dennis arrived! It really is a fantastic piece of kit that will serve the school for a long time into the future.
We were due to go to York this weekend, unfortunately now cancelled due to flooding. Had we gone we would have taken 5 quads on it. The old trailer could only carry 4, so it would straight away have allowed more boys to race.
We will be taking 5 quads down to the Scullery in London (hopefully) in a couple of weeks so it is making a difference already.
We are currently storing the quads on it fully rigged. For flood protection this is immense. We're now able to keep boats rigged and ready to use, but also able to tow them away to higher ground if needed without having to get lots of people down to move things around.