Local Sixth Formers "Making a Difference"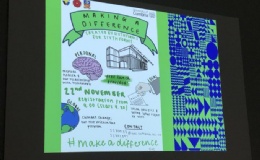 A unique event for sixth form students focussing on mental health, politics and environmental issues, empowering them to make a difference personally, nationally and globally took place last week.
The Making a Difference conference was aimed at Year 12 students from three secondary schools in Lancaster and took place at the University of Cumbria's Lancaster campus, on Friday 22 November.
The event was organised by a small group of 17-20 year olds made up of Year 13 students from Lancaster Royal Grammar School, Lancaster Girls' Grammar School and Ripley St Thomas CofE Academy, along with second-year education students from the University of Cumbria.
The day included a series of lectures and workshops led by experts in the three fields: Dr David Ellis (Lancaster University), Caroline Sharples (Lecturer in Science, University of Cumbria) and Mr Reynolds (Deputy Head of Sixth Form, Lancaster Royal Grammar).
Ellen, a Year 13 student from the working group said: "The conference is not just about raising awareness of the issues but it is also about inspiring students and giving them the confidence to make a difference. When given the opportunity to organise a conference, we wanted to address matters relevant in the lives of our generation."
Dr David Ellis from Lancaster University commented that, "Laptops, social media, emails and smartphones all help us organise our lives, socialise, and even promise to keep us fitter and happier for longer. But what are the unintended consequences of all this technology?"
Sarah Haigh, Head of Lancaster Royal Grammar Sixth form, one of the schools supporting the event, stated, "It has been a real privilege to work with the students on this project. The way that the group has collaborated with the academics and university staff to bring their ideas to life is really admirable and confirms the message they wish to project, that young people can be the catalyst for the change they want to see in the world."