Pioneers of New Coeducational Sixth Form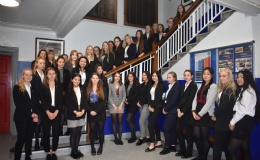 This group of girls have made history by being the first cohort of Lancaster Royal Grammar School's coeducational Sixth Form.
Ms Sarah Haigh, Head of Sixth Form said: "The first couple of weeks of term have been a busy but exciting time. The atmosphere around the Sixth Form Centre is vibrant and really positive, and it already feels completely normal to see both boys and girls around the site and in lessons. I'm delighted by the number of students who have joined us this year - they've come from a wide range of schools, and are already having a great impact. Our returning students have been very welcoming and are helping the new boys and girls to settle in nicely."
Lancaster Royal Grammar School will be welcoming girls into Sixth Form boarding in September 2020 and welcome all those who are interested in applying for day or boarding places to visit our Sixth Form Open Evening on Tuesday 15 October 2019 at 5.30pm.