Reece Holt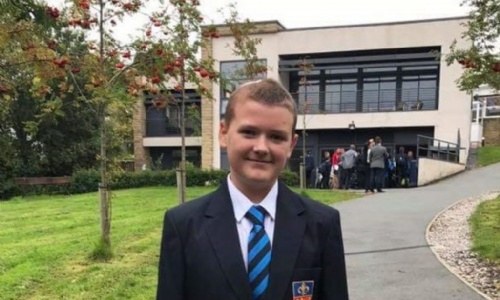 It is with much sorrow that we are marking the death of our pupil Reece Holt at the age of 13.
Reece had a big impact on Lancaster Royal Grammar School. He was the most positive of pupils, and the bravest. Reece loved coming to school, and his classmates were delighted to spend time with him in lessons. It was a major highlight that Reece was able to take part in the Pooley Bridge outdoor residential in glorious weather last summer. Most recently, it was lovely to see him take part in the Carol Service at Lancaster Priory and attend the school's end of term Pantomimes.
Reece already knew that he had a serious brain tumour when he started at LRGS in September 2017, and his time here was punctuated by illness and hospital visits. He inspired the school to make Team Reece a focus for our charity fundraising, and we will continue to honour his memory. It was a delight to have Reece with us. As we mark his death, we will also celebrate his bright young life.
Mrs Hodkinson, Reece's Year 7 Form Tutor said: "Reece was a valued and popular member of 7S. His enthusiasm to learn, even when he felt unwell, was an inspiration to his class mates and will be remembered fondly by his teachers. At the Pooley Bridge residential he showed such determination to enjoy the activities, reaching the top of the wall in climbing, jumping from the top of the cliff while coasteering and helping to plan a race winning raft on Ullswater. His time at LRGS was punctuated with illness, but when he came into school he always wanted to join in and take whatever he could from lessons, and he particularly enjoyed Technology. He made some strong friendships, and will be greatly missed by all."