Quiz Success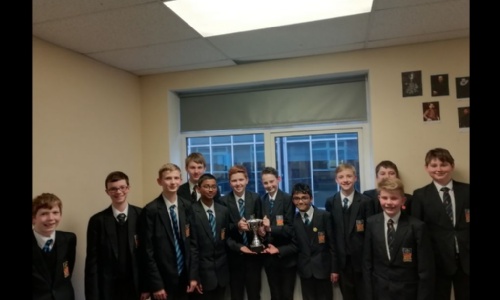 Huge congratulations to our Junior Quiz teams who competed against 15 others teams at Bury Grammar School yesterday.
Our Cs (Ronan (c), Monty , Ben and Dylan) were handed a tough draw against 3 different A teams: Bury Grammar, Birkenhead and Bolton Boys. They competed really well, though, winning 1 of their league matches and ultimately only missing out on a place in the plate semi-final by a handful of points.
The Bs (Joe (c), Matthew, Ryan and Matthew), arguably, had the tougher draw coming up against Manchester Grammar School's A team as well as Caldy Grange A and Bury B. Incredibly, the boys won all 3 games in their group- including that 'grudge match'- to qualify for the regional semi-final.
Being a seeded team, our A-team (Henry (c), Juan, Jonty and Joshua) had the slightly easier draw and comfortably beat Caldy Grange B, AKS B and Bury C by a cumulative total of 1160-290 points.
This set up an exciting 'all-Lancaster' semi-final tie between LRGS A and LRGS B. All friendships were set aside and as we approached the halfway stage, only 50 points separated the two sides. However, an extremely strong second half saw the A-team run out the victors by 700-330.
After a good 5 hours' worth of quizzing (including the minibus journey!) the boys had just the unbeaten A team from AKS to overcome. After racing into an impressive lead of 450-130 points, we seemed to be cruising to victory. However, a strong burst from AKS saw the deficit reduced to less than 200 points with 10 minutes remaining. After a little wobble, though, our boffins regained their composure, to see out a convincing victory of 740-470 points.
Nick Rafferty, Teacher of English, said: "All 12 boys not only quizzed brilliantly, showing astonishing knowledge and speed on the buzzers, but were also an absolute credit to the school being polite, well-humoured and sportsmanlike for the entire day."
Next up sees the A-team take on the Scottish champions for a place in the National Finals